XR, with a market share of USD 105.58 billion in 2023, is expected to grow at a CAGR of 34.94% to reach USD 472.39 Billion by 2028. While it is highly attributed to the growing adoption of headsets, it is also because it is now accessible on the browser without needing expensive VR devices and headsets. This blog discusses WebXR, its evolution, key concepts, and its importance in the immersive space. So, let's dive in and explore!
What is WebXR?
It is an umbrella term under which Augmented Reality (AR), Virtual Reality (VR), and Mixed Reality (MR) converge and are accessible on the browser. It can be seen as an upgrade from WebVR that required headsets to view the experiences. WebXR, unlike VR, allows users to see interactive 3D characters and scenes on the browser.
The experiences thus built with the technology can be viewed on various devices, from low-end devices like mobile phones and tablets to high-end devices like VR headsets and AR glasses. It widens the content reach and accessibility to a larger audience group and has thus become the current favorite for many.
Key Concepts, XR Devices, Platforms, and more!
The fact that WebXR, like AR experiences, can be accessed on many devices and web browsers and still be immersive makes it a top-notch choice and in line with evolving industry trends. One such instance would be Apple's recently announced launch of Vision Pro. It is a classic example of using a headset and still seeing and interacting with digital and overlaid content in the real world. You can browse content on various Apple devices like iPhones, iPads, MacBooks, and iMac.
Talking of the approach to building WebXR applications, there are two – Coding and no-code! If you are a proficient programmer with a small project, you can choose to go with the coding approach. However, no-code platforms like ours can still be a go-to option. We come in handy, especially when time and cost-effectiveness are a priority. And when you have a creative bent of mind to create immersive applications without letting coding become a constraint.
Creating Your First Project on a no-code platform
Let's jump right into a step-by-step guide to creating a new WebXR experience using the PlugXR tool, where you just drag & drop assets to create amazing experiences.
1. Create a new project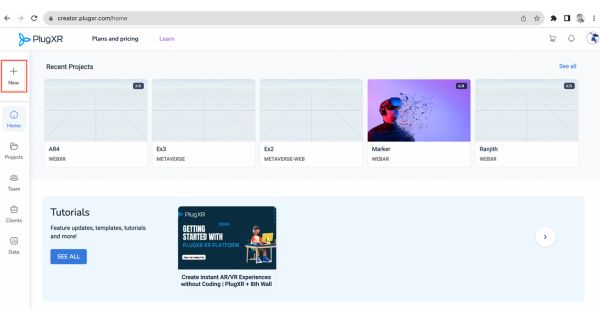 2. Choose the target type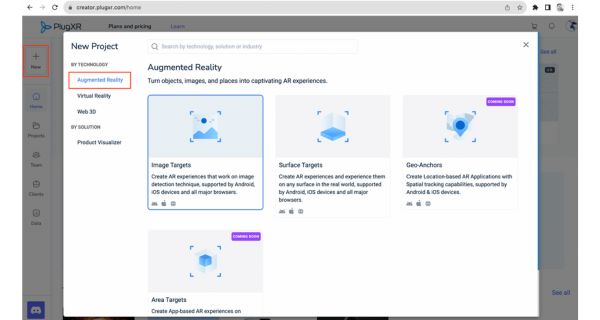 3. Drag-and-drop assets on the grid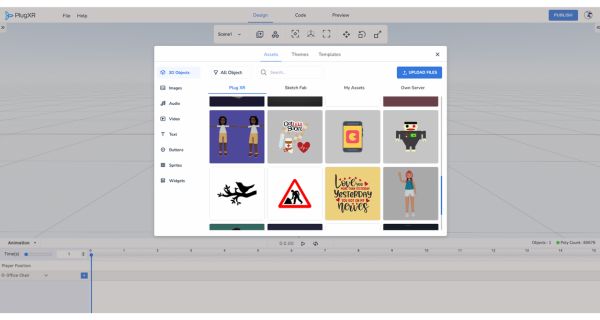 4. Add interactions – Use control features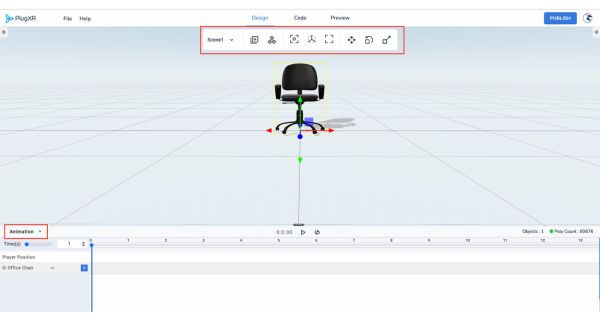 5. Publish and share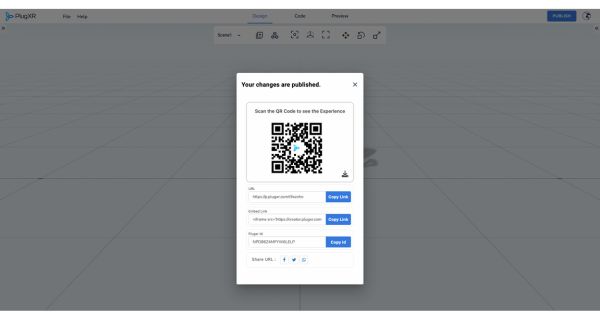 Now, let's look at the many benefits of WebXR for the world to witness!
WebXR Compatible Browser
It, being a newer and evolving technology, you might encounter WebXR browser compatibility concerns with older versions of web browsers. However, the updated versions of most browsers support it, some popular and widely used being:
1. Google Chrome
The Chrome browser has always been an avid XR supporter. Therefore, with the latest and updated version of Chrome, it is unlikely to face inconsistencies with running WebXR experiences. You can rely on it for a smooth experience of XR technology on the go.
2. Safari
Apple has recently been a major advocate of Mixed Reality and one of the pioneers of Spatial computing technology. It is very evident after the Worldwide Developers Conference 2023 (WWDC23). Thus, it is highly unlikely that the Safari browser will choose to keep its users away from an evolving technology. You can expect a top-notch experience watching it on the browser in question. @8thWall
3. Microsoft Edge
Microsoft's web browser remains no less than the above in terms of supporting cutting-edge technologies. With the latest version of Microsoft Edge browser installed, you can view WebXR experiences without obstruction.
4. Mozilla Firefox
Firefox is one of the few older browsers. And with its latest version, you can expect a smooth WebXR experience on the browser.
Benefits of WebXR for Immersive Applications
Adding oomph to product visuals and interactivity is key to offering an extraordinary shopping experience online and in brick-and-mortar stores. While we understand the overall benefits it brings to the table when compared to WebVR, AR, or MR alone, let us understand the underlying benefits in greater detail:
Accessibility and Ease of Use
Initially, not everyone could access and experience the immersiveness and interactivity that VR, MR, and XR offered and were restricted to plane AR experiences only. It was due to the heavy cost associated with those headsets and premium XR glasses that cost hundreds and thousands of dollars.
Cross-Platform Compatibility
It is Another considerable benefit of WebXR that works on mobile web browsers, AR glasses, and other VR and MR headsets, thus not limiting one segment of the user and favoring others. It is, therefore, likely to be highly embraced by many owing to them being able to address different user segments and penetrate different markets with varying purchasing power.
No Installation Required
Accessing the experience on head-mounted devices alone required multiple software installations, thus being friction for many users. The users thus could drop off and hardly return. On the flip side, with WebXR, no installation is required, and users' experience is seamless with the least friction or blockers in experiencing the content owing to no requirement of installation of heavy software.
Integration with Existing Web Technologies
Interactive 3D models have been a fascinating development in the online shopping world, with eCommerce stores and retail website owners allocating budgets to integrate immersive technologies into their customers' shopping experience and buying journey. The capabilities of WebXR in integrating with e-commerce stores and native websites give it an edge over app-based XR.
Evolving Ecosystem and Industry Adoption
Initially, immersive applications were developed for headsets, and Augmented Reality was mostly for fun and entertainment. However, now the technologies in question are serious business tools and thus must come together to address a range of users owing to their adoption by various industries for varying use cases across business applications. And WebXR facilitates the adoption of the technologies on a wider scale.
Case Studies
XR projects are built across various industries for many business applications. While some use cases are designed to integrate into the customer journey, others are built to educate and entertain users. Let's take a look at some of the prominent applications of the technology in different industries:
E-commerce
The eCommerce and retail industry has been one of the earliest adopters of XR technology owing to the various use cases fitting the needs of eCommerce brands in enhancing their customer experience. WebXR now forms one of the preferred technologies that integrate into the needs of visual commerce in filling the voids of a great customer journey. Top brands offer many exciting options like try-ons, product customization, VR tours, and much more that increase buyers' confidence to purchase. It thus significantly reduces product returns and leads to prosperous sales and revenue.
Education and Training
Walmart's staff training for its stores is a classic example of how XR technology can be used for education and training. While the interactivity features ensure that the user learns by interacting with the content, browser support ensures that it is easily accessible. It thus makes customer education, staff training, and classroom education fun, engaging, and more efficient than the traditional approach.
Virtual Tourism and Real Estate
Imagine going on a trip right from your browser, where you don't just see stuff but also interact with it. Today, museums, amusement parks, and many other visitor sites around the world are recreated to allow users from all over the world to travel and experience them right from the comfort of their homes. WebXR makes this journey more accessible, cost-effective, and exciting. The same goes for the real estate sector, where one can take a virtual tour of properties while interacting with the objects in place without site visits.
Healthcare and Medical Training
Medical training is another apt example of leveraging WebXR tools for efficient and easy staff training for healthcare procedures and complex medical equipment. While trainees can put a headset on to get training in a simulated environment, they can also do it in the real environment with a browser-based AR experience.
Marketing & Advertising
Web-based immersive content serves the best when it comes to creating promotional content. When potential customers see your advertisement and interact, it boosts engagement and ultimately leads to an increased conversion.
Web-based extended reality has been a breakthrough for the immersive industry, widening the scope of XR technology beyond just entertainment. Now that it has found real business applications and integrated directly into the customer journey, its adoption will likely soar exponentially. And no-code creative design software like ourselves empowers growth with an intuitive and easy-to-use interface.