Apple debuted its latest innovation, the Apple Vision Pro, at WWDC 2023 earlier this year. Since then, it has been creating a buzz for good and will likely bolster the efforts of the Web 3.0 community in building the future of the Internet. With Facebook rebranding itself as "Meta", spatial Computing has been a lesser-spoken term. However, it is now making waves, integrating with Apple's technological capabilities and cutting-edge inventions.
We have tripped on some exciting information and compiled it for you.
What is Spatial Computing?
Spatial Computing can be seen as the subset of an ambitious imagination of a virtual world that replicates real surroundings, people and interactivity. It is the technology that promises to change how people use computers in their day-to-day lives, at home and work. While in an immersive VR space or the real world, you can use the physical space as an interface to interact with, thus replacing the need for an actual computer screen.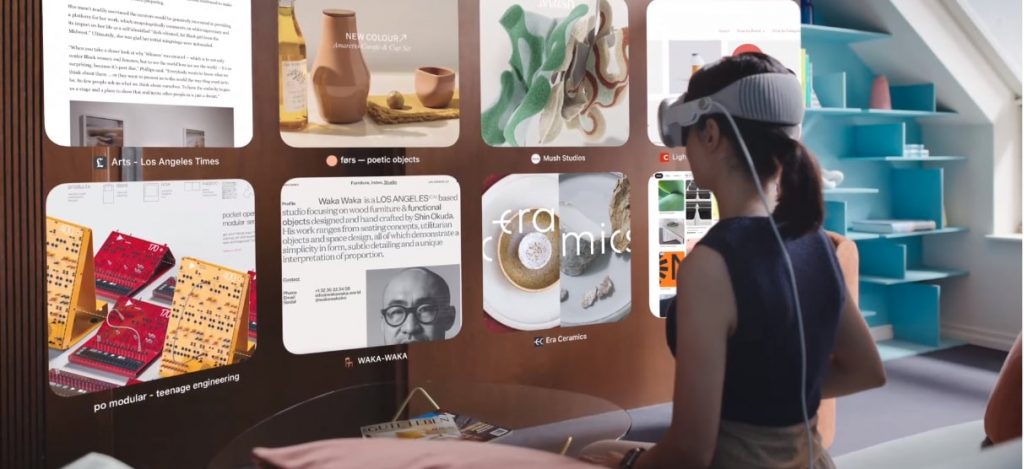 Is "Spatial Experiences" and Metaverse the same?
The natural question will be if Spatial Computing is the same as what people call the "Metaverse" also because many believe that while Meta uses one term to market its product, Apple uses the other term to market a similar product. There are differences if you go by the definition of "Metaverse," as defined in the science fiction novel "Snow Crash," that the world is trying to replicate in real life.
The present-day Metaverse might look the same. However, there is a lot to design to build the Metaverse that the world is looking forward to. One of the many aspects to look at is the integration of blockchain technology that the world is hesitant to adopt immediately.
We don't see much difference between the two when they compete against each other. While Meta is filling the M voids bit by bit, Apple seems to be building it layer by layer.
Apple Vision Pro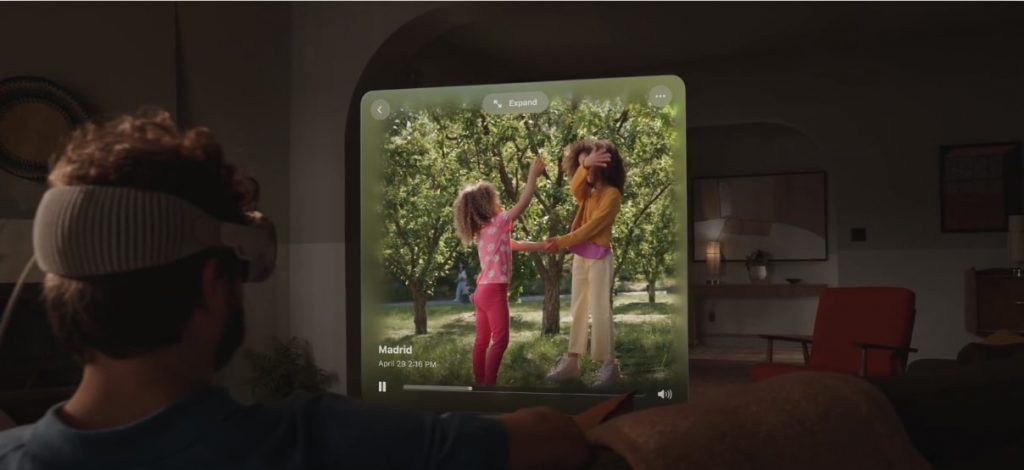 The Vision Pro, which is Apple's newest entrance into a major product category since the Apple Watch, is positioned primarily as an AR device. Still, you can switch between virtual reality and the augmented world using a dial.
Apple Vision Pro Features
The device is marketed as a 'Spatial Computer' that can be controlled through physical inputs like eye tracking, motion gestures and voice input, which means it is controller-free! The system uses an M2, but it also includes a new chip called the R1 and is powered by VisionOS- Apple's newest OS. It allows apps to be placed side-by-side, freeing them from the boundaries of traditional display.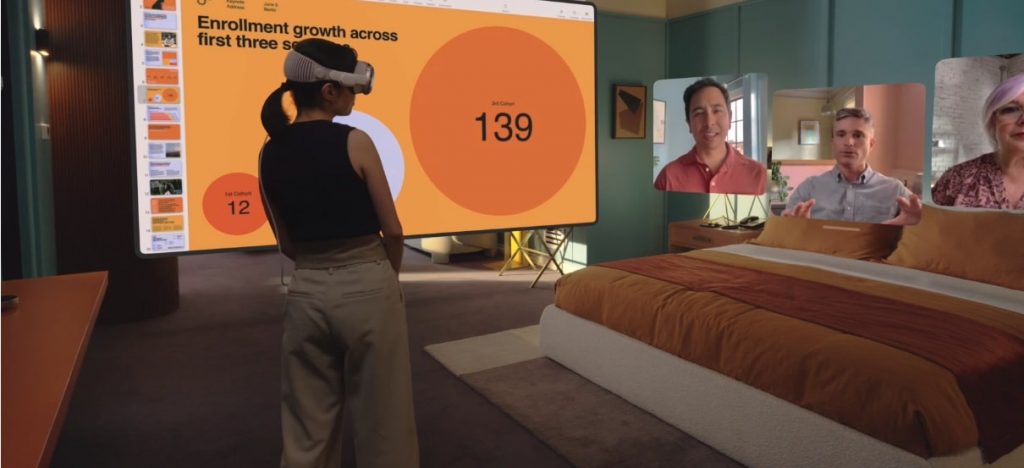 To ensure that you stay connected to those around you even with the device on, a game-changing feature called 'EyeSight', "reveals your eyes and lets those nearby know when you're using apps or fully immersed in an experience. When someone approaches, it lets you see the person and reveals your eyes to them." It makes you feel like the people around you are part of your augmented reality experience. How cool is that?
It uses spatial audio when talking to people remotely, an audio technology that creates a more immersive and realistic listening experience by simulating sound sources in a three-dimensional space. With spatial audio, sounds can be positioned and moved in a virtual space, allowing a more accurate representation of how we perceive sound in the real world.
Apple's first shot at AR glasses has garnered praise from many industry insiders and is set to arrive in the US market "early next year", starting at $3,499. Its primary competitor is Meta with their Quest 2 and Quest Pro headsets.
How does Apple Vision Pro compare to Meta Quest?
Both Meta and Apple are two of the most inventive technology giants. With its new and first-ever launch of a headset for "Spatial Computing", Apple seems to be challenging Facebook's vision of the Metaverse and its reputation as a leader in the immersive technology space.
It will be interesting to place the headset in question and Facebook's Meta Quest side-by-side to see how they are similar and what makes them different.
Cost
The Apple Vision Pro cost is expected to be $3,499. It is understood from the fact that Apple emphasizes technical advancement and hence invests a lot in R&D to develop technology that excels in all aspects.
On the other hand, Meta Quest is designed to reach a larger audience, with Facebook focusing on greater adoption of the technology. Meta Quest 3, the latest from Facebook, will likely sell for $500.
Design
Apple products are known for their premium, sleek design, and Vision Pro is no different. With an impressive design and premium quality element, it is unlikely to disappoint its users. It is composed of sleek metal and glass. You can see the eyes and expressions of the person wearing the headset.
However, even the latest Meta Quest (40% slimmer than its previous version) looks heavier. Also, it is plastic made and feels less premium or a budget device when placed side-by-side.
Display
There is a significant difference in the displays of the two headsets, mostly due to the price point difference. The apple headset provides a better than 4K image display, packing more than 23 million pixels in its pair of displays.
Meta Quest, on the other hand, has over 7 million pixels and delivers a 1920 X 1800 resolution.
Content
Apple has a good hold on the content side for its early users, where Vision Pro users can access and play around with content it has built over the years. Also, users can employ it for plenty of other use cases, from video calls, meetings and collaborations on a floating screen in a virtual environment and AR.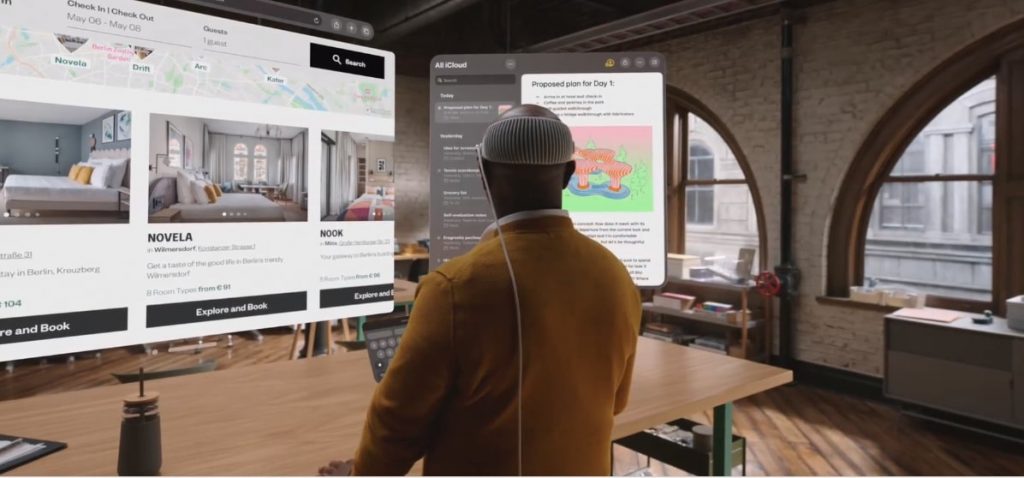 Meta, on the other hand, offers its users an immersive gaming experience on their quest device. Over the past few years, Meta has designed top-notch games that are nothing short of wow for game lovers.
Apple Vision Pro Vs Meta Quest: Which is the best for an XR app developer?
Both Meta and Apple have their fanbase. Meta has been impressing the developer community with their hardware equipment and cutting-edge developments in realizing the vision of the Metaverse. On the other hand, Apple has demonstrated strong research and development capabilities. Hence, both are likely to attract a fair share of attention from the developer community.
If you are a Meta loyalist, use the quest for its product ranges and affordability. However, you should buy Vision Pro if you are an Apple product user or planning to upgrade.
Getting started with immersive app development
Immersive apps often leverage technologies such as augmented reality (AR), virtual reality (VR), mixed reality (MR), or other interactive elements to create a heightened sense of presence and interaction. If you want to become an XR developer and create cutting-edge XR applications, there are two ways to do it.
1. Coding Tools
Unity and Unreal engines are the two all-time favourites of developers who want to build immersive apps through programming. You must by-heart the platform and learn coding languages like C#, JAVA, Objective-C, Blockchain, AI, etc.
2. No-Code/low-code Alternative
On the flip side, if you wish a quick start with XR app development, consider beginning to build apps on no-code, low-code platforms like ourselves. On PlugXR, while you can drag and drop elements to build commercial and non-commercial XR apps, you can also leverage our coding editor as you advance in your career.
Apple's Vision Pro is a significant disruptor of existing hardware and software technology in the immersive world and a potential competitor for Meta. With its high-end user base across devices like smartphones, iPads, laptops and PCs, the Apple Vision Pro headset is likely to sell and looks to have a slightly better edge owing to its sound research and development in place.