In line with the recent announcement of Apple's Vision Pro and Meta Quest 3, we are thrilled to introduce the next generation of PlugXR, Version 6.0. This major release comes packed with powerful features, a complete brand transformation, and a creator first pricing structure.
1. Our Next Generation Product – no-code creative design software solution & 5 big updates!
At PlugXR, we understand that our audience consists of forward-thinking innovators and early adopters of immersive technology, including young creators, freelancers, developers, and tech-oriented brands.
Let's delve deeper into our five major updates that cater to your evolving needs in the immersive technology landscape.
1.1- Advanced Web AR Capabilities integrating with 8thWall
With PlugXR Version 6.0, we've integrated 8th Wall Web AR capabilities seamlessly into our platform. This integration opens up exciting possibilities for our users, which is part of many more SDK integrations we are planning.
Stability of Output:
The 200% enhanced stability of output compared to our previous version ensures that your AR experiences run seamlessly without glitches or interruptions. Say goodbye to frustrating inconsistencies in your projects.
Low Rating Marker Support:
We acknowledge the diversity of markers used in image tracking. Our improved capabilities now support even low rating markers, giving you the flexibility to experiment and innovate.
1.2- Product Visualizer for your Website and eCommerce store
In the world of eCommerce and native websites, captivating the audience is paramount. PlugXR's Product Visualizer empowers you to create immersive and interactive product experiences that can transform online presence:
Visualize Products:
Showcase products in stunning 3D, providing your customers with an engaging and memorable shopping experience.
Boost Engagement:
Use immersive technology (AR) to increase user engagement and trust, ultimately driving higher conversion rates.
1.3- Enhanced User Experience (UX)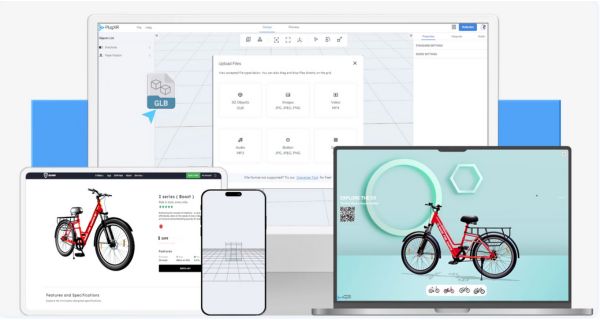 Usability and accessibility are at the core of our philosophy. In Version 6.0, we've put user experience front and center:
Streamlined Workflow:
Our platform now offers a more intuitive and user-friendly interface, allowing you to work more efficiently.
Increased Productivity:
With a smoother workflow, you can focus on creativity and innovation rather than wrestling with complex tools.
1.4- Project/Files Import and Export
Collaboration is key in the world of immersive technology. Our updated platform lets you effortlessly import and export projects and files, making collaboration with other creators a breeze:
Interoperability:
Work seamlessly across different platforms and with other creators, breaking down barriers and enhancing your creative possibilities.
1.5- Free and Premium XR Templates
Jumpstart your XR projects with our extensive library of templates. These templates cater to a wide range of use cases, from marketing campaigns to educational experiences:
Save Time:
Avoid starting from scratch by using our templates as a foundation for your projects.
Explore Possibilities:
Experiment with different templates to discover new creative avenues and applications.
2. Our Fresh New Look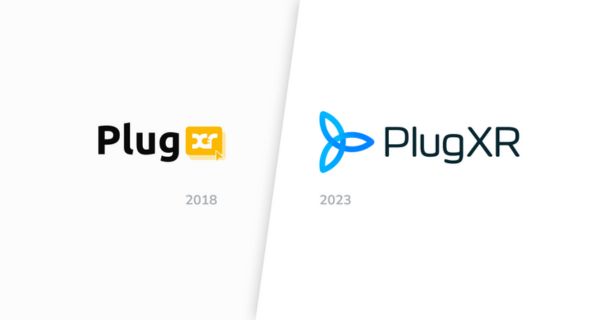 We believe that our brand should reflect our commitment to innovation. Our new logo and brand update are a testament to this belief.
The fabulous brand makeover – The new hues and shades
Our new logo has a clean and streamlined design that says how we are committed to simplicity and efficiency. It has bold and dynamic lines that convey how driven and determined we are, while the vibrant color palette suggests the energy and passion within us.
The thought process behind our new logo
It reflects how we blend the three core technologies AR, VR, and MR, and bag them in a single cutting-edge platform that does away the user's reliance on complex coding methods to build XR applications.
3. A New Dynamic Pricing to Fit Your Needs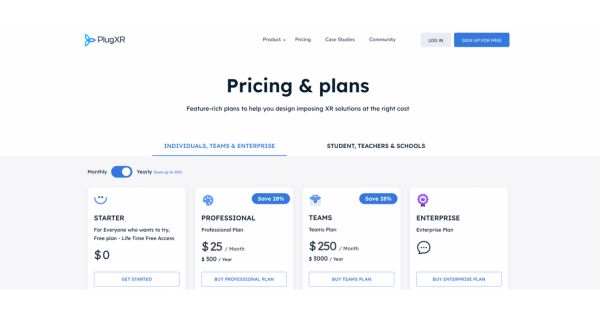 We've completely rethought our pricing structure to better accommodate your diverse needs:
Affordability:
Our pricing plans are designed to provide value while remaining accessible.
Educator and Student Support:
We offer dedicated pricing for educators and students, ensuring that immersive technology education is within reach.
Customization:
If you have unique requirements, we're here to create a custom plan tailored to your specific needs.
Add-Ons:
Our flexible add-on options ensure that you pay only for the features you truly need, eliminating unnecessary costs.
PlugXR Version 6.0 marks the beginning of our journey to empower creators, freelancers, developers, and forward-thinking brands in the immersive technology space. We invite you to explore this exciting future with us. Upgrade today and experience the difference for yourself. Embrace innovation, sign up, and unlock endless possibilities with PlugXR. Your journey into the immersive future starts here.