Augmented reality art (AR art) helps the artist to share their vision, whether it be to expand upon existing works or create immersive, interactive environments. However, augmented reality is not for the faint of heart. Those willing to take risks and forge new ground should read this. AR art opportunity is ideal for artists who aren't afraid of taking a leap of faith into uncharted terrain to further their careers and build a name for themselves and their work.
AR Art Introduction
Augmented reality presents computer-generated data in a time setting. It varies from virtual reality since it integrates digital components into the physical world. The actual-time blending of real and virtual worlds.
The digital world is witness to the creation of augmented reality, which is also witnessing its rapid expansion. It may be used in a variety of situations, such as classrooms, shops, and even theaters.
AR is also a significant development in the arts since it gives creatives a fresh medium to express themselves. Because it is a dynamic and engaging medium that fuses artistic expression with the real world, augmented reality (AR) offers tremendous potential for telling stories.
In light of this, it's not surprising that several museums and galleries have started experimenting with AR immersive displays.
What Is Augmented Reality Art (AR Art)?
Viewers can use a mobile app to experience augmented reality art installations that may or may not include moving parts, sound, or other changes they can make themselves. The AR artworks may be brand-new creations, faithful reproductions of classics, or reworked classics given new meaning. They manifest as works of art in 3D space at predetermined locations or wherever the camera is pointed.
Augmented reality adds new dimensions of shape, motion, and significance to existing works of art or physical locations. AR is typically less expensive to develop and requires less specialized technology for both makers and consumers than VR, a synthetic and immersive experience (and requires a headset and a controller).
How Augmented Reality Helps Artists?
Artists embody the actual creators, whose work is characterized by boundless freedom that reaches the human soul beyond words. Art, painting, sculpture, and design are all forms of idea transmission. An artist's concepts can be experienced and interacted with in real time by the audience with the help of AR artwork.
Unique works of art can be created when augmented reality combines human ingenuity and traditional techniques. Now that virtually anyone with a smartphone can take advantage of augmented reality applications, the time is ripe for artists to incorporate these tools into their practices to provide audiences with a more complete and satisfying creative experience.
PlugXR makes it simple to add augmented reality to your artwork. Sign up for free now and start adding oomph to your art pieces. It is convenient for AR artists, and you won't require assistance while making an AR artwork.
After the upload, You can enhance the picture with anything from animations to video clips to audio recordings to digital slide shows. PlugXR offers a variety of Art and AR solutions, including image-based and web-based AR.
It is also possible to create your very own augmented reality art app without having to use any kind of programming language. Online art exhibits and shows can be hosted by any artist, and the artist does not need to be concerned with meeting any technical standards or creating any code.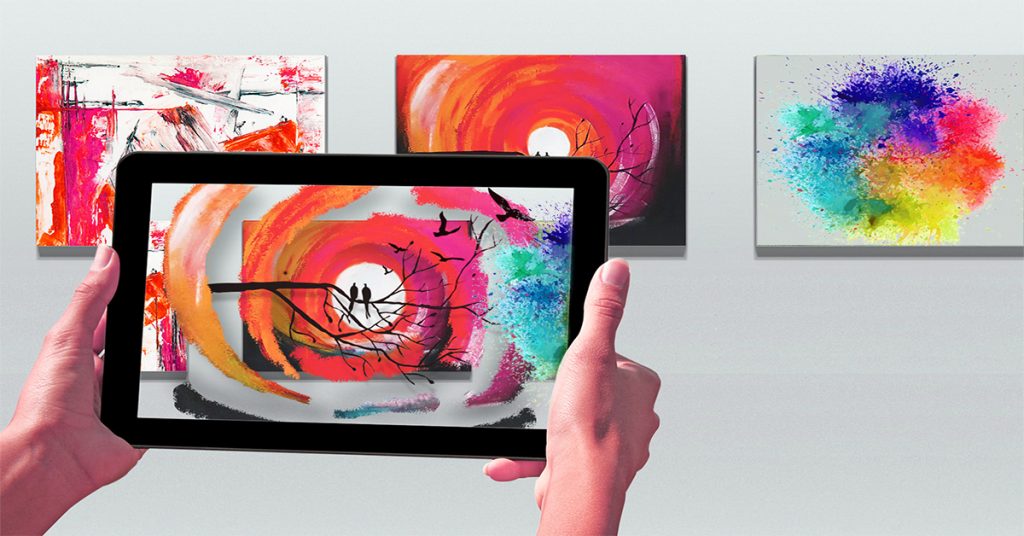 AR art doesn't require you to become a computer programmer
I brought up those mentioned above because, in my experience, many visual artists believe they must be both art and technology gurus simultaneously. Here are a few reasons.
Video and still-image overlays are two types of ar art. PlugXR AR Creator is one such platform that enables even those with no technical knowledge to combine their artworks with digital media. These platforms help bridge the gap between the technological and the creative by allowing artists to take advantage of the rudimentary levels of augmented reality.
Collaborate if you wish to make animated and 3D experiences. We rely heavily on collaboration to complete our initiatives. Artists come in all shapes and sizes, including 2D and 3D artists, animators, musicians, multimedia creators, filmmakers, and designers. Multimedia artists often come from a digital design background or are independent modern artists. You can never go it alone with this sort of Art since they still need to locate partners who supply Ar art hosting services that match their requirements.
Even paintings from decades ago can be used as AR artwork today. You can add a new AR art layer to an existing work of Art without altering the original.
You may digitalize your ideas without spending lots of money using AR Art
It is just another misconception about cutting-edge technologies like augmented reality. You could easily host an entire exhibition using mobile augmented reality technology for a few hundred dollars a month.
You can add layers to your city's wall using AR art.
Because we've stopped thinking of ourselves as exhibits and started thinking of the entire world as a potential oyster to be cracked open, I'd like to discuss one of the most popular uses of augmented reality today: AR graffitis and augmented city artifacts and posters.
The latest NFT street art by world-renowned street artist KIWIE in Spain is a superb illustration of how AR can bring a craft to life.
Final take away
I want to highlight how important it is to have high-quality material as one of the issues augmented reality faces in all industries. We understand that how artists utilize their creative natures to generate meaningful experiences can contribute to the solution of this problem. Because of this, I aim that those individuals who wish to combine technology and Art and are looking for ideas will find this blog helpful in clarifying some of the alternatives available to them.