Many consumers may just now be intrigued by metaverse shopping because it seems so future. Online stores, though, can't afford to take a laid-back attitude toward metaverse shopping. The new world is coming at full speed and will be here in time for the holiday shopping season. The time to prepare for the virtual future is now, and those who don't will likely struggle in 2022.
Introduction
Successful brands are active not just in the real world but also online, on mobile devices, and on social media. That presence naturally evolves into the metaverse. By adopting VR, stores may allow customers to engage with the brand in a one-of-a-kind, immersive setting that conveys the brand's story and serves as a point of differentiation. The more immersive and engaging a store's 3D environment is, the longer customers are likely to stay compared to when using a mobile app or a regular website to make a purchase.
What is Metaverse Shopping Mall?
Many companies are already allocating resources toward creating a website where customers can communicate and purchase online to enhance their metaverse shopping experiences.
According to Richard Kerris, Vice President of the Omniverse Platform at the company NVIDIA, "There will be a significantly larger market, a bigger industry, with much more artists and designers creating products in virtual worlds than there will be in the physical world." In other words, the virtual worlds will have a larger market and industry.
NVIDIA is just one company capitalizing on the growing market for online shopping to boost profits. NVIDIA supports the ever-increasing demand for online shopping in several ways, including providing Graphics Processing Units (GPUs) and creating unique AI avatars for users of the metaverse.
Most designers today are concerned with designing things people would actually use, such as cars, buildings, clothes, and shoes. "Keeping going, Kerris. It is the next step in internet development when everything gets multiplied many times.
It's no secret that the pandemic hastened the transition to online shopping. Research indicates that by 2021, online retail sales will have increased by 18%, reaching $710 billion.
Although most of this money went to large corporations like Amazon, the trend has prompted numerous small businesses to double or even triple their online sales.
Consumers' reliance on internet photos, videos, and virtual reality experiences to learn about products is growing, says the University of Iowa's Marketing Department's Assistant Professor, Dr. Andrea Luangrath. As a result, shoppers can now experience items in totally novel ways through the metaverse store.
The next decade will see a dramatic increase in the popularity of virtual retail, whether it's avatars shopping in the metaverse, buying new virtual clothes, or users trading non-fungible tokens (NFTs).
When it comes to establishing what online retail is all about, Obsess is one of the companies at the forefront. Obsess has collaborated with major international brands like Tommy Hilfiger, Ralph Lauren, Coach, and more to develop shoppable virtual stores and Augmented Reality (AR) showrooms.
Currently, consumers may access the 3D, immersive experiences via the brands' websites, but in the future, they will be accessible via all metaverse platforms.
What exactly does a Metaverse shopping mall look like?
How, therefore, can merchants increase the appeal of their digital wares to online customers? Perhaps Dr. Luangrath has uncovered the answer. Our findings indicate that consumers' product evaluations and willingness to pay rise after witnessing a virtual hand touch a product in a virtual reality setting or through social media material.
Adding a virtual touch feature to an outcome might make it feel more human and realistic to the retail metaverse consumer.
Better 3D-designed experiences where metaverse retail customers can walk around and shop are a surefire way to boost the success of a metaverse retail business, especially when combined with virtual touch.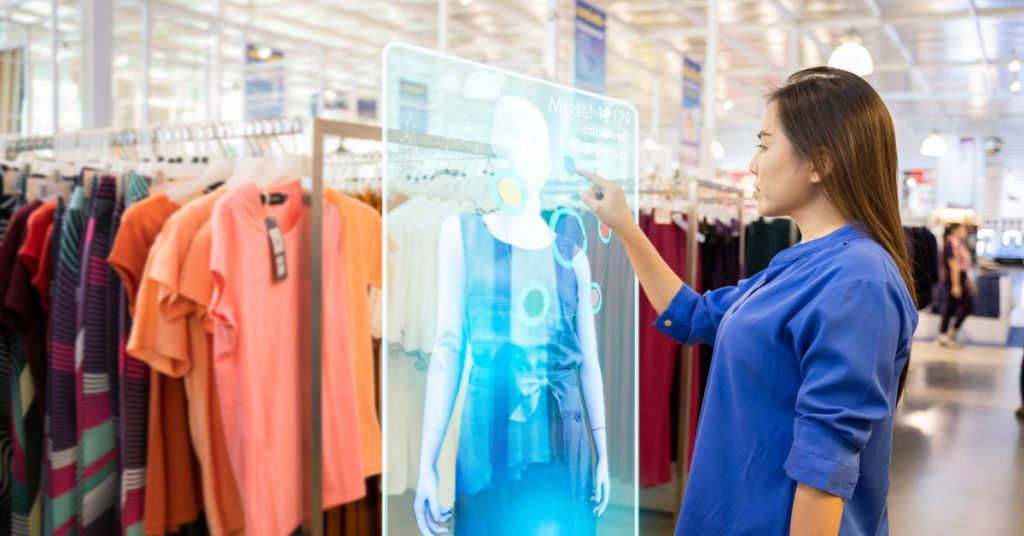 How will Metaverse Shopping Malls Change the Face of Online Shopping?
The metaverse is not just the most incredible place to sell to your target demographic but also has the capacity to house massive virtual malls.
Because they grew up with video games and e-sports, "Gen Z" and "Millennial" consumers "expect to be able to connect with companies, goods, and virtual worlds," as stated by Singh.
For these consumers, in particular, the metaverse serves as an extension of the shopping mall, providing a setting for a wide variety of recreational and commercial pursuits.
Meeting the expectations of these generations and offering them highly immersive, engaging metaverse shopping experiences will become increasingly vital as they age and progress in their careers.
Share the brand story
Virtual experiences, as opposed to traditional retail locations in the real world, present a much more comprehensive range of possibilities.
They are not held back by factors such as high construction prices, busy showrooms, awkward locations, or inappropriate times of the day.
Even the most outlandish ideas can be brought vividly to life in the metaverse, and shops can make these products available to customers regardless of their financial situation.
Metaverse store
The metaverse technology must be prepared to suit the virtual wants and demands of the mall's primary demographic as they gain greater financial independence. Your virtual self will soon be able to visit the majority of clothes retailers without ever having to leave your desk.
Brands Leveraging Metaverse through Metaverse Shopping
Brands, in this increasingly digital environment, need to focus on creating emotionally engaging shopping experiences. The use of visual and auditory cues to make a convincing environment is a common technique in metaverse shopping.
It also requires coming up with ingenious ways to add smell, sound, and haptics to the virtual store. It may appear daunting at first, but it is not beyond the realm of what has been accomplished in the real world.
Final Words
PlugXR is a Virtual Store that facilitates immersive online shopping. Brands and stores may now have a fully functional 3D 360-degree digital storefront on their website with the help of our virtual shopping and augmented reality shopping technologies. PlugXR's own VR e-commerce platform opens up a new market for shopping in the metaverse.