Food experience has to do a lot with how you present it. From dining at a restaurant to ordering online, users want a good experience, even if it comes with a slightly premium price. While initially, packaging has been a great deal; we are a bit ahead today with the food tech trends, especially developments like restaurant augmented reality menus and a fun dining experience as you get entertained seeing those adorable Augmented Reality-based food stories.
Let's review the data of an American restaurant research firm, "National Restaurant Association" research for 2023. Augmented reality in the food industry is among the top 10 trends, and 75% of the global population is expected to use augmented reality in some way by 2025, according to a joint study conducted by Snapchat and Deloitte! If we combine both the facts, the investment and innovation in Augmented Reality for restaurants will become one of the most exciting developments to look forward to.
Augmented Reality in restaurants – 6 best ideas along with examples
The restaurant business is one of the sectors where new methods and technologies are adopted rapidly, be it an online menu and ordering system or introducing the concept of a robot waiter. Thus, AR is another advancement that can bring innovation into the field and make the experience of enjoying food more memorable and exciting.
Amplifying the experience while one dines at your restaurant along with the great food is the best way to go competitive in the market. Some of the great ideas that you can use to get started are:
1. Take interior and creativity to the next level
You can use AR to showcase your creativity and personality by adding unique and customized elements to your restaurant, such as your logo, your signature dishes, or your story. Some chains have also started to allow their users to enjoy their interiors through the help of AR using different platforms, cultivating a closer relationship with their customers.
One such program is DoorDash, which collaborated with Snapchat to allow users to immerse themselves in the environment of popular restaurant chains. During the COVID pandemic, the food delivery app used Snapchat's AR features to recreate the interiors of five top restaurants – Baskin-Robbins, The Cheesecake Factory, Buffalo Wild Wings, Chili's, and Outback Steakhouse. With DoorDash's augmented reality restaurant app, users could see themselves in restaurants while having food. Doordash, thus, addressed, to some extent, the limitations of a dine-in experience.
2. Entertainment and customer interaction
Games, puzzles, quizzes, and challenges created with AR can keep your customers entertained and engaged while they wait for their food or after they finish their meal. You can also use AR to create social and collaborative experiences for your customers by allowing them to interact with other customers, share their opinions and feedback, and participate in contests and rewards. You can also use AR to create a sense of community and belonging among your customers by connecting them with your staff, brand, and mission.
Pizza Hut has used AR to create a virtual game on its boxes, where customers can use their smartphones to play a trivia game on the table. The AR game is designed to be fun and follows the theme of Pac-Man as its inspiration.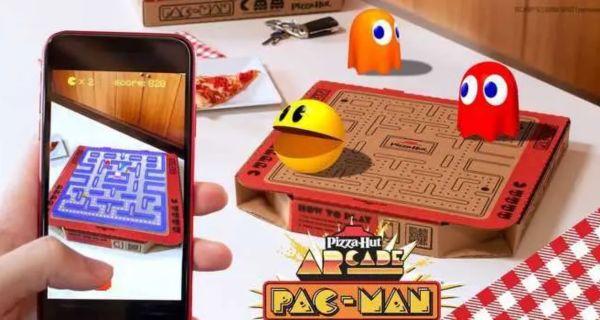 3. Redefine your restaurant menu and dining with augmented reality
One of the most prominent and impactful ways to use Augmented Reality in restaurants is to redefine your menu and dining experience. You can use AR to create a more visual and interactive menu, where customers can see 3D models and animations of your dishes, as well as detailed information and reviews. You can also use AR to create a more sensory and emotional dining experience, where customers can see, hear, smell, and feel your dishes in a more realistic and immersive way.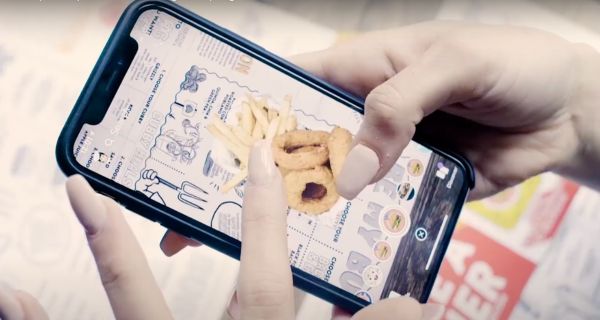 Bareburger stands out as a prime example of this innovation. This fast-food chain uses augmented reality to offer an incredibly informative menu. Diners can feast their eyes on a hyper-realistic preview of the dishes and dive into detailed explanations of the ingredients that make up each tantalizing item.
4. Open kitchen and recipe display
AR can be used to show your customers how your food is prepared and cooked, as well as the skills and techniques of your chefs. By using AR to create an open kitchen and virtual display to show recipes, you can increase the transparency and trust of your customers, as well as the quality and consistency of your food.
Heinz made a clever move a few months ago by offering its customers a unique augmented reality experience. They introduced an augmented reality recipe book that could be unlocked with a simple scan of the barcode on their ketchup bottle. This nifty trick allowed customers to explore a treasure trove of recipes featuring Heinz Ketchup, opening up a world of culinary possibilities.
5. Interactive food launches and advertisements
You can use AR to introduce and promote your new dishes, offers, and events, as well as to attract and retain your customers. You can also use AR to create more direct and personal communication with your customers by allowing them to scan your products, flyers, posters, and billboards and access exclusive information and rewards.
A winery took an imaginative step by teaming up with a mobile app to bring their 19 Crimes wine bottles to life.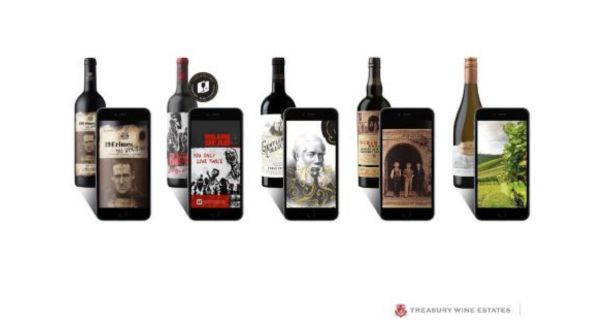 Each label on these bottles represented a different historical criminal, and when users scanned the bottle with the app, these characters sprung into animated existence. With a tap on the screen, the user could delve into the story of each prisoner, learning about their origins and journey through time.
6. Train your staff with augmented reality
One of the challenges of running a restaurant is to train your staff effectively and efficiently. You want your staff to be knowledgeable, skilled, and professional, but traditional training methods can be costly, time-consuming, and tedious. AR can solve this problem by providing a more engaging and interactive way of learning. With AR, you can create realistic simulations of various scenarios and tasks that your staff may encounter in the restaurant, such as taking orders, preparing food, serving customers, and handling complaints.
With the rise in popularity of augmented reality in the restaurant sector, a lot of innovation can take place, and the rapid progression in the field of AR will make it one of the integral parts of restaurants in the upcoming years. Many restaurants and food chains will try to create their unique Augmented Reality experience in the upcoming years. Thus, for the new players in the market, it is essential to prepare themselves and adapt to the latest trends in the market. Try out the PlugXR tool to make the customer's food experience at your restaurant better than ever! Sign up now.