An excellent technique to introduce and enthuse students about any subject in today's classroom is to use augmented reality (AR). Many AR gadgets may operate independently of the teacher and the physical aspects of the lecture room, in addition to going beyond textbooks and abstract notions to make them "real." Most lecture rooms and students already have the technology—the computer, smartphone, or tablet—usually required for using augmented reality in the classroom, as opposed to the sometimes expensive technical requirements of a full virtual reality setup, such as a headset and gloves.
Students succeed if they obtain a top-notch education. Typically, students are required to complete easy test tasks correctly. Children memorize the information with little understanding. Since they can only pay attention for a short time when they are not engaged, kids occasionally lose interest during lectures. Hence, using augmented reality in the classroom should be encouraged by institutions.
How to use augmented reality in the classroom?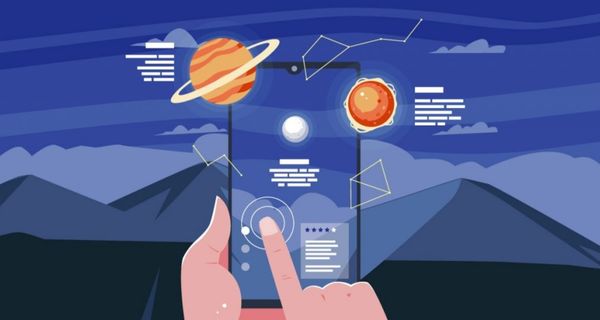 Mentioned below are several applications of augmented reality in classroom education and teaching resources:
1. Math
Teachers using AR in the classroom can develop fun and instructive math lessons that increase kids' interest and help them succeed in school. Augmented reality (AR) applications can aid students in understanding mathematical topics using interactive 3D models and visualization. Tools like the Merge Cube provide an interactive approach to studying geometry, which lets students hold, see, and rotate a virtual cube.
2. Chemical and Biological
Teachers may use augmented reality in the classroom to create exciting courses to help students study science. Teachers may support their students' scientific investigations by fusing A.R. components, films, and animation. Chem101 AR, for instance, aids students in comprehending complex chemicals like acids and oxides. Using specialized cards, students may change chemical structures and make new compounds.
3. History
Teachers in an augmented reality classroom provide students with immersive history lessons. Virtual trips to locations worldwide may be made possible through tools like Timelooper and 360Cities to educate students about various cultural and historical viewpoints. Students and instructors may use their cell phones at historical sites and museums to access augmented reality apps that offer more details and context about historical artifacts on exhibit.
4. Coding
Students' ability to participate in creating lesson plans in conjunction with teachers is one of the main advantages of augmented reality in the classroom. Additionally, teachers may use platforms to develop AR-enhanced coding lesson plans. Tynker, for instance, gives educators resources to teach video game coding. Students may create A.R. projects for the classroom using this tool.
How can educational institutions use augmented reality in marketing their offerings?
Even in education, augmented reality technologies have enormous potential for marketing and promotion. Numerous institutions in the USA are already utilizing augmented reality tours to boost enrollment and aid new students in navigating the campus.
Examples of augmented reality supporting the marketing of institutions
To enhance its marketing effort, the University of Scranton employed A.R. techniques. When someone points their phone at a poster while using the Layar app, they might watch an animation made possible by augmented reality.
The use of augmented reality in education for marketing at Cal Poly Pomona is a fantastic example. An augmented reality software created by the university provides information on the campus's past. People may peek at a building's historic appearance and learn about the history of particular areas by utilizing their smartphones.
Various information, including audio, video, and digital publications, are delivered through augmented reality by the Community College of Beaver County in Pennsylvania. As a result, the app offers an enjoyable and educational method of learning about the university. To further enhance the user experience, the app also includes gamification features.
Higher education with augmented reality
Augmented reality has many different uses in higher education. Using augmented reality in the classroom, teachers may materialize abstract ideas to help students grasp and comprehend complex concepts. Take a look at these instances of augmented reality in higher education from institutions.
1. Theater
University theatre departments are introducing augmented reality into their courses because theatres adopt technology like the AR Show platform, which enables producers to include AR components in live plays. One institution, for instance, created augmented reality software to visualize stage design and help virtual walkthroughs before set building.
2. STEM fields include math and science.
Augmented reality in classroom education increasingly involves the US science, technology, engineering, and math departments. For instance, students can employ AR technology in a hands-on, cooperative lab where they can experiment with various chemical processes and run a chemical plant.
3. Medicine
Due to AR, medical education is evolving. It will provide opportunities for medical students to witness actual, ongoing surgeries. Augmented reality teaching apps can also assist medical students in learning about human anatomy using simulations and models. Before operating, an innovative app enables surgeons to tour the patient's inside organs.
4. Study of past
Augmented reality in the classroom can be an efficient tool for history classes emphasizing how effective it can bring the past to life. It is better to enlarge one's capacity for seeing than to relive historical events in the present by superimposing them on the actual reality. Students and staff improved an interactive history project illustrating the possibilities of a Japanese-American internment camp during World War II. They combined drone image-capturing technology with augmented reality to rebuild the events during this crucial period in American history in 3D.
Education-focused augmented reality classroom apps.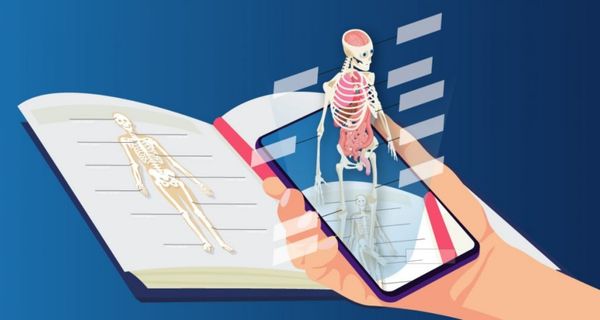 To enhance the current curriculum and increase engagement, schools and colleges—on-campus and off—use augmented reality. There are several augmented reality apps to use in the classroom listed below:
Students and medical professionals can better comprehend the human body's functions using the Human Anatomy Atlas 2021, which includes 3D simulations and male and female anatomy models. Users may examine animations, investigate the movement of muscles, and undertake virtual dissections, among other things.
Discoveries from VR Frog Dissection To understand bodies, students in biology schools worldwide dissect frogs. This program replaces the need for physical dissection by providing a completely immersive experience that enables instructors and students to study frog anatomy online.
Exploring dynamic, virtual worlds is possible for instructors and students via the adaptable software Expeditions, which offers hundreds of augmented reality tours.
An interactive list of planets known to circle stars in the Milky Way is available through the app Exoplanet, created by a professional astronomer.
Users of this augmented reality software may see and recognize constellations and stars in real time while learning intriguing astronomy facts and regular statistics using Star Walk.
Augmented reality for distance learning
The pandemic has dramatically increased the popularity of distance learning over the past several years. Online learning will remain popular long after the situation has stabilized for this and other reasons. Applications for augmented reality can be a valuable platform for online education, allowing students to get the necessary resources and work in real-time collaboration with other students and professors. We should also point out that students enrolled in remote learning only sometimes need an instructor to explain the topic. With a brief or in-depth explanation of the theory and interactive practice, a good app may provide a comprehensive presentation on each topic. As a result, students can independently study at a high level in a setting that suits them.
Using augmented reality, students may continue to study outside of the classroom. Furthermore, utilizing AR-enhanced educational tools can improve the simplicity and efficiency of online or distance learning.
Some augmented reality apps for remote learning.
Wonderscope is an excellent example of how augmented reality may be utilized in education for kids and is a valuable tool for those pupils who cannot physically attend class. The software makes the stories come to life on the device's screen and sparks kids' curiosity and delight in reading new books.
The 3DBear app combines all the advantages of augmented reality teaching and learning and is ideal for online courses. The platform's creators included a practical area to aid teachers in managing the remote learning procedure.
To assist users in practicing their abilities as if they were in real-world circumstances, the language-learning software Mondly has included an AR-based virtual teacher.
Why is augmented reality appropriate for use in education?
A textbook cannot demonstrate movement or change over time, but augmented reality for teaching can. A.R. and V.R. may help students visualize ideas and include multiple senses to help them recall information as they engage with virtual and real-world objects. According to several pieces of research, augmented reality in the classroom boosts student engagement and awakens their interest in learning. Visualization and interaction with virtual body components improve students' memory in the anatomy course. For instance, delicate organs may be identified and worked on using A.R., but they would soon deform if you did the same on an actual corpse.
As more students become computer literate and augmented reality teaching apps become more user-friendly, the perception that new technology is a barrier to learning is shifting. University students typically feel secure when using their smartphones and other devices to access A.R.
Cases where educators are using AR in the classroom
Several well-known examples of augmented reality in the classroom demonstrate the genuine potential of such learning techniques.
1. Education on kids' safety.
To educate kids about the fundamental safety standards from a young age and help them become self-aware of these laws, more than 80 kindergartens in China used augmented reality technology in an elementary education program. According to the organizers, this participatory educational approach has a greater chance of helping kids recall and use such important information in real-world situations.
2. Western University uses augmented reality in the classroom
The Unity Charitable Fund has given money to Western University for an A.R. project that will let students swim with sharks. It is a fantastic opportunity for decision-making under pressure and for student biologists to examine the perspectives and behaviors of the sharks closely.
3. Using Google Arts & Cultures for educational purposes
It has become much more challenging to plan field trips for students to museums, galleries, theaters, etc., amid quarantine and a pandemic. With the help of this Google software, you can take a virtual 3D tour of some of the world's most well-known museums, enjoy a day at the ballet, and even go abroad without ever leaving your house or place of study.
Students may use augmented reality in areas other than those already listed. You may continuously develop a unique augmented reality application considering your educational demands and providing an excellent learning experience that will blow any existing curriculum out of the water.
Key Takeaways
For the sake of students and the next generation, the educational system should incorporate new pedagogical approaches as technology advances worldwide. With the rise of mobile technology like smartphones and tablets, the adoption of augmented reality in the classroom is easier than ever. Also, implementing the same in the classroom is easier than ever with PlugXR's no-code platform equipped with powerful features. You can easily revamp your educational material and recreate them in AR with PlugXR Creator. Future classrooms could not resemble those of the past thanks to augmented reality's ability.