Augmented Reality has recently been one of the most popular ideas with its ability to elevate marketing and advertising levels. As it overlays the digital content onto the physical, content creation becomes much more exciting. Thus, the opportunities it provides for commercial purposes are boundless. Businesses in different sectors have started incorporating this technology for different use cases. One of the most successful of them is Augmented Reality advertising.
Over the next four years, between 2023 and 2027, spending on Augmented Reality marketing campaigns will steadily increase.
Augmented reality advertising future looks magical with its spending estimated to shoot up by a whopping 2.4 billion U.S. dollars, a 55.81 percent increase. After a decade of growth, it's expected to hit a high point in 2027 at 6.72 billion U.S. dollars.
What is Augmented Reality Advertising, and Why is it Effective?
It refers to using Augmented reality to create advertisements where the consumers feel they are viewing the product in front of them. In contrast to visual magazines and plain advertising videos, with augmented reality ads, brands, and advertising agencies will benefit from its interactivity aspect. It makes advertising a two-way street, with users controlling how they want to see the ad.
It allows brands to add newer aspects to advertising and improve existing ones:
Personalization
While many business intelligence tools help us make informed strategies based on what our potential users love and what fails to engage them, the next step has always been a struggle – curating information that hooks them, amuses, and appeals enough to take action.
Clearly, communicating with a user segment and offering exactly what they need has always been difficult. With AR advertisements, you can create advertisements closer to and highly personalized to specific user segments. For instance, today, eyewear brands have personalized their marketing and advertising with a try-on option. Each user can try the product and choose one that goes with their face type and features. It significantly boosted their ad impact, driving engagement and purchase.
Interactivity
Adding interactivity has been another impactful element that amplifies advertising performance. Consider you see a car advertising in a colorful magazine. Now, you can see it standing right before you when you scan it. You can pinch to zoom, take a closer look, and even test drive it in simulation.
AR ads allow users to interact with the brand or product in various ways – trying on clothes, testing features, playing games, or accessing additional information.
Emotion
AR is still to see its adoption full-fledged among the majority, and it remains a lesser-known technology. Hence, it is highly likely for users to get excited about how it works.
AR ads can, thus, elicit positive emotions from users, such as curiosity, surprise, delight, or satisfaction, creating a stronger emotional connection and brand loyalty.
Virality
A great experience likely spreads. AR ads can encourage users to share their magical experiences with others on social media or word-of-mouth, significantly increasing the reach and awareness of the brand or product.
It can be the factor that a product goes viral. However, you will need a great story to tell. AR can only complement to make it exciting content.
AR campaign ideas to take inspiration from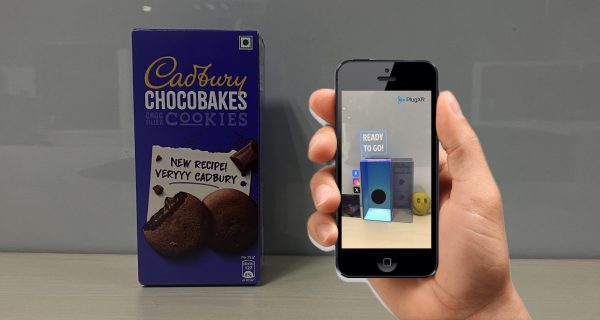 Brands have realized the above aspects of AR advertising to some extent. Still, there's a long way to go, for creativity knows no limit. Let us look at some inspiring Augmented Reality campaigns that made an impact.
Home Depot's Virtual Paint Tester
​​Home Depot, the go-to place for home improvement, has harnessed the power of augmented reality (AR) to make life easier for its customers. With their app, Project Color, they've cracked the code on helping folks envision how different paint shades will look in their humble abode.
What's cool about this app is its fancy patented tech that provides a super realistic preview of paint colors on your walls. It considers things like lighting, shadows, and even the furniture in the room. Simply put, Project Color is like your personal paint assistant. It helps you make more intelligent choices when picking out paint and reduces the risk of post-paint regret. Home Depot isn't the only one getting in on this AR action; IKEA, Wayfair, Sephora, and many others also use AR to spruce up how you visualize their products.
Snap's AR filters
Snap is the company behind Snapchat, a popular social media app with AR filters and lenses. In 2020, Snap launched City Painter, an AR tool that allows users to spray paint over buildings on London's Carnaby Street virtually. Users can choose from different murals and see them superimposed over the real-world view through their smartphone cameras.
City Painter is an innovative and creative way to use AR to transform public spaces and create art. It is one of the best examples to show how AR can be game-changing in the world of advertising.
Pepsi's "Bus Shelter" campaign
In 2014, Pepsi pulled off a seriously incredible stunt in the heart of London on Oxford Street. They decked out a regular bus shelter with an AR screen that worked some serious magic. Passers-by were in for a wild surprise as they witnessed live footage of the street turning into a whirlwind of crazy scenarios.
This experience was part of Pepsi's "Unbelievable Bus Shelter" campaign. Using AR to catch people's attention and spark curiosity was a genius move. It left a lasting imprint in people's minds, creating a unique brand memory. But the fun didn't stop there. The campaign went viral on social media, with folks sharing their jaw-dropping reactions in videos and photos.
Burger King's Whopper Detour campaign
Burger King launched the Whopper Detour campaign in 2018. It offered users a one-cent Whopper if they ordered it through the Burger King app within 600 feet of a McDonald's location. The app used geolocation and AR to detect the user's proximity to a McDonald's and then redirected them to the nearest Burger King.
Burger King's Whopper Detour campaign was a bold and humorous way. They used AR to challenge their main competitor and drive traffic to their stores. The campaign was also very successful. It boosted the Burger King app to the top of the App Store charts, and increased app downloads by 1.5 million. And, sold 1.5 million Whoppers in nine days.
Conclusion
The above AR advertising examples show how AR can help create innovative and inspiring AR marketing campaigns. From Pepsi to Snap, many homegrown brands from different countries have started to use Augmented Reality advertising campaigns, utilizing its potential to grow their customers and position themselves firmly in the market.
AR advertising is on a winning streak, and soon, brands that align themselves with the new ideas will have an immense advantage over their conservative counterparts. Especially, with augmented reality advertising costs reduced with no-code software alternatives. If you are a brand that loves innovation, no-code platforms like ours can be the best choice to create AR-powered advertising content that bolsters your advertising efforts.