Transform Your Ideas into Reality with Our No-Code AR/VR Creator
Create and Publish
Login with your Registered Email ID and Password
Augmented Reality(AR) is changing the way we look at everyday things. Literally! Want to know how Augmented Reality in Retail is enhancing the shopping experience to create an individualized and17 unforgettable customer journey while being very beneficial to the retailer as well?
Augmented Reality in Retail Industry creates a more cohesive experience by bridging the gap between offline and online shopping to become a very feasible way of capturing the audience's interest, encouraging them to engage and interact with the brand, thereby reaching a larger customer base and boosting conversions. Forward-thinking retailers like Amazon, IKEA, Lenskart, Target, Wayfair, and others are already implementing AR in their changing rooms, websites and loyalty apps – and customers are responding, loud and clear. Let us see how AR in Retail is changing the way millennials shop.
Increase Brand and Product Awareness Augmented Reality in Retail Industry:
The retail industry is a very competitive space and constant upgrade in operations is key to long-lasting success. Apart from upgrading the quality and choice of products, a brand gains better recognition when customer experience is upgraded as well. Augmented Reality could be the retailer's solution to sustainable, long term strategy to enhance customer's shopping experience and set themselves apart as innovative and modern to the millennial shopper. Augmented Reality is the future of a retailer's online and offline presence and ultimately will determine their presence and positioning in the consumer's mind.
An outstanding example is that of Airwalk who created an "invisible" pop-up shop, promoting the limited-edition Airwalk Jim by using AR and geolocation. To purchase the shoe, customers had to download Airwalk's app and go to a virtual pop-up store location resulting in UDS 5 million in earned media and a successful brand awareness campaign.
Try-On Virtual 3D Products:
Are you tired of waiting in the long queue or even going out shopping? Well, Augmented Reality has taken trying on products to an all-new level. You can now try on products at home or at the store. A lot of brands have opted for AR and integrated it into their apps to provide consumers with an insightful visualization of the product to improve their experience with the retailer. The consumer will be more likely to make a purchase from the retailer going the extra mile to ease his decision making because they will feel confident that the product works for them.
Lacoste's LCST Lacoste AR app allows customers to try on shoes virtually.
Sephora's Virtual Artist app to show users how makeup products will look on their faces.
Lenskart has integrated AR into their app and shows users how a particular spectacle will look on the user's face.
Virtual Display Of Products at Home:
It has always been very difficult for consumers to visualize how a certain product will look at their home. Not anymore. AR can help users see a 3D model of the chosen product at their home and decide if it matches the environment. All of this at the comfort of sitting at home. Consumers now have the option of choosing from a wide range of modifications to see a real-time view of the room post all the modifications, allowing the retailer to provide customized modifications based on user's preferences.
Furniture leader IKEA integrated AR into its app helping users visualize how certain furniture would look in their house and make a wiser decision.
Similarly, Home Depot and Asian Paints integrated AR into their apps which allows users to see how a paint color looks in a room. The AR technology considers lighting, objects, and shadows in the room so that users can get a realistic portrayal of how the paint color will look in real life.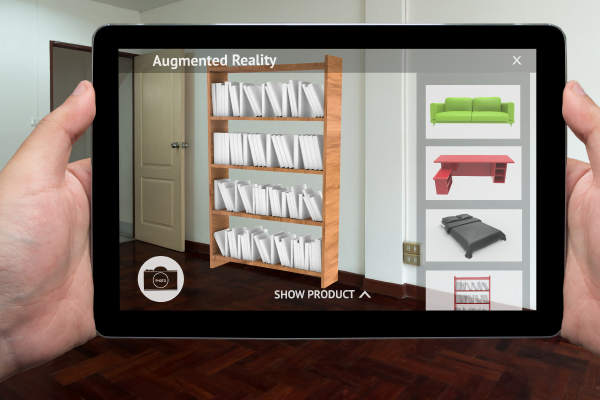 Information Accessibility Augmented Reality in Retail Industry:
In an era where at least 60% of the millennial shoppers look up product information and prices on their mobile phones, AR could be the solution to help them make a more informed decision. AR can also fill the gap wherein consumers want to know how others feel about the product post-purchase. Furthermore, AR in the Retail Industry helps retailers collect more information about customers, enabling retailers to offer personalized loyalty programs, with individualized rewards by using an analytical tool.
American Apparel created an Augmented Reality App that allows customers to scan signs in the store and gather product information, including color options, pricing, and customer reviews.
Reduce Returns:
Have you ever returned a product that you ordered online because it either didn't fit properly or did not look like the way it was shown on the website? Well, we have all been there. But not anymore. Augmented Reality is opening up a world of possibilities wherein the user can try and visualize an informative and interactive 3D model of the product.
The ability to visualize a virtual representation of products in 3D and integrate it into their environment enables shoppers to make better judgments. Once they have made an informed decision, they may either buy directly or go to the store to complete their purchase. This maximizes the probability of them being satisfied with their purchase once received, thereby cutting the rate of products returned post-purchase.
Retailers can use this technology in multiple other ways that will help them increase revenue and boost customer experience.
Retailers can use Augmented Reality to merge virtual selling space with their physical ones, overcoming physical barriers, cost-effectively. For example, retailers could change the look of an environment and renew the product selection on display or add a window where there is none in their store.
Retailers can use Augmented Reality to display more stock that cannot fit into their limited selling space and can finally compete on product selection with brands with more space.
Indoor Navigation using AR and geolocation can prove to be very useful to guide consumers to their desired retailer in a mall. Huge retail stores can use indoor navigation within the store to guide consumers to the shelf which contains their desired product. AR can also help with shelf identification, for example, to check the status of store aisles, providing warnings if an item is misplaced.
Conclusion:
Although Augmented Reality is becoming mainstream, it is still an exciting and unique technology to deal with. With numerous advantages and no downsides, AR is massively going to change the way millennials shop, both online and offline.
Just like Augmented Reality is making shopping easier, PlugXR is ensuring AR development is made easy and feasible for everyone to adopt it.
Read (https://www.plugxr.com/augmented-reality/ar-development/) to know how PlugXR is changing the game of AR development.
Visit https://www.plugxr.com/ to know more
Transform Your Ideas into Reality with Our No-Code AR/VR Creator
Create and Publish
Login with your Registered Email ID and Password