Have you heard about the latest buzz in the education world? It is Augmented Reality and Education. Yes, you read it right. It is technology and Education coming together and making waves. Gone are the days of boring lectures and chalk-dusted blackboards. With Augmented Reality in Education, students can learn in a whole new dimension. It's like taking a virtual field trip without even leaving the classroom.
Imagine students exploring the human body in 3D or diving into historical events as if they were there. It's an immersive experience that can truly enhance learning.
Incorporating AR into the curriculum for EdTech startups and universities can give them a competitive edge. It's a game-changer that can attract more students and improve their academic performance.
Traditional approach Vs. AR (The current favorite)
The current education system is designed to provide students with a foundation of knowledge and skills that will prepare them for success in college and the workforce. While the system has served us well for many years, it is important to recognize that the world is changing rapidly. The skills once essential for success are no longer as important, and new skills are needed to thrive in the 21st-century economy. AR technology in Education can play a valuable role in helping students learn the skills they need to succeed in the future.
For example, One of the biggest challenges with the current pattern is that it's not accessible to many students from different backgrounds and hence has no access to the facilities to enable learning that ensures perpetual growth. Tools like AR allows institutions to provide quality learning to all of their students without expensive resources and enable a system of passion-based Education instead of accessibility based. Imagine seeing how a rocket works with the help of AR; won't it be more fun and engaging? You can build most of these models by using cloud-based AR software.
How Augmented Reality Helps in Education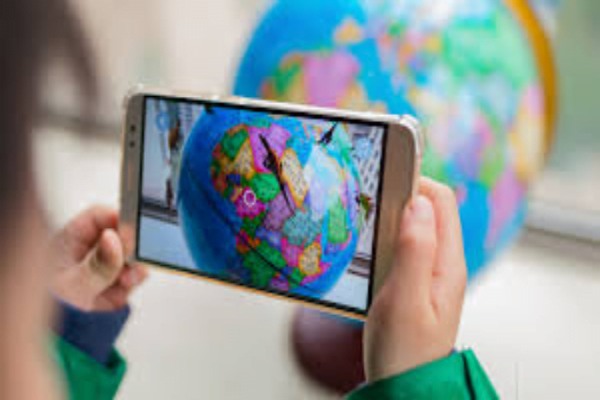 AR is the buzzword for most businesses, but is there any real potential in this idea that requires your attention? Yep, there is, and you can learn a lot about the modern education setup and its needs. We will discuss some of the important ones here, including enhanced learning and productivity.
E-learning experience enhancement
In today's remote learning world, we rely on online platforms and apps to get us through. But let's be honest; sometimes, it can be a snooze-fest. That's where Augmented Reality comes in! EdTech businesses can now add a dose of AR to their eLearning apps, taking the learning experience to a whole new level.
Imagine interacting with concept examples instead of just staring at a screen.
Learning enhancement
If you're tired of boring old textbooks and lectures, then have no fear because AR is here. That's right; Augmented Reality is the ultimate tool for understanding and memorizing complex concepts.
Picture this: instead of staring at a flat image in a textbook, you can now see a 3D model of the concept right before you. It's like having a virtual tutor by your side, guiding you through the intricacies of the subject matter: no more confusion, no more frustration, just pure learning. And the best part? AR isn't limited to just one subject. You can use it for math, science, history, language, and more! It's like having a whole world of knowledge at your fingertips.
Productivity enhancement
AR in education can provide you with an emulated environment to learn and practice in, no matter the field. Whether you're training to become a doctor, firefighter, or soldier, AR can simulate the experience and prepare you for the real deal.
With AR, you'll be fully immersed in the training process and learn the technicalities of your desired profession like never before. It's the ultimate way to enhance learning and optimize performance. And if you're an EdTech entrepreneur, the possibilities are endless. You can specialize in distinct domains and provide immersive training experiences that set you apart from the competition.
Some real-life augmented reality examples in the education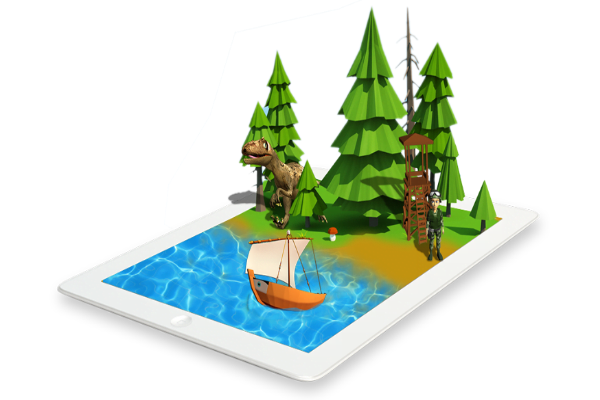 There are some real-life augmented reality examples in the education sector. A brief understanding of a few of these implementations will likely help you develop ideas on how to use augmented reality in education.
Google Expeditions is an AR app that allows students to take virtual field trips to places like the Great Barrier Reef, the Egyptian pyramids, and the International Space Station. The concept is to help students who cannot visit these places enjoy that experience and understand their importance.
Quiver is an AR app that allows students to interact with 3D objects and animations. For example, students can use Quiver to learn about the human body, the solar system, or the history of the Civil War.
Augmented Human Anatomy is an AR app to see and understand the human body and other important parts through 3D models.
ChemiVision is an AR app that allows students to learn about chemistry. This app helps them understand the molecules' intricacies with the help of interactive models.
AR Dragon is an AR App where Students can view 3D models of dinosaurs and interact with them to learn about their behavior and biology.
Google Arts & Culture offers a variety of AR experiences, including the ability to view famous works of art up close and personal. This app is another one by Google after expeditions that Focus on a different set of experiences.
Benefits of Augmented Reality in Education
There are several benefits associated with AR that you should know, which should be in your plan while you try to build an AR tech. But, several challenges need to be addressed, too, that will help create a more subtle and efficient way to implement AR into your education setup.
Students engagement
We all know that reading textbooks can be a real drag. And let's be honest, who wants to spend hours staring at a screen? With AR, you can immerse yourself in academic concepts and make learning fun and interactive. No more boring textbooks or dry lectures. AR is suitable for students of all ages, from kindergarten to university. It's the ultimate way to engage with the syllabus and retain information.
Visualization
Are you tired of deciphering complicated textbook diagrams or struggling to visualize complex concepts? Don't fear because Augmented Reality is here to save the day. With AR in education, you can superimpose 3D models of the human body, IC engines, kinematics, and more. It means you can see every intricate detail up close and personal, leading to efficient data processing and better retention of information.
Cost-effective
We know some of you might be skeptical about the costs of implementing Augmented Reality in education, but let us tell you: it's not as pricey as you think. Unlike virtual reality, which requires fancy headsets and high-tech equipment, AR can be accessed from your smartphone. That's right – no need for extra gadgets or expensive tools.
Accessibility
With Augmented Reality in education, students can access interactive learning materials anytime, anywhere, from their smartphones. There's no need to lug around heavy textbooks or carry cumbersome models – it's all right on your device.
Augmented Reality in education can make learning fun and engaging, improving your understanding of the subject. No more struggling to stay focused during long lectures or sifting through boring textbooks. With AR, you'll be fully immersed in the learning experience, which means better grades and a better understanding of the material.
Make Integration of AR Simple with These Tips.
Some simple tips can simplify the integration of AR into your program, and if you have understood the benefits, learning this will help you understand how to reap all the benefits without any complexities in the long run.
Choose an efficient service provider.
One of the most important steps to ensure that nothing goes south when you are trying to introduce AR into your EdTech service or institution is to ensure that your service provider uses cloud-based service, which will help you maintain the program in the long run. They have the right tools to create and deploy the models you need for your program. Choosing the right provider can save you a lot of trouble, time, and necessary resources.
Conduct training sessions for teachers.
Conducting some training sessions for your teaching staff to help them understand the technology in and out will prevent a lot of potential downturns like not being able to use the pieces of equipment or damaging one. A few sessions will help them understand how the technology works and how to use them to benefit their students.
PlugXR's initiative in bolstering AR in Education
The use of Augmented Reality in Education offers many benefits. By providing an interactive and immersive learning experience, AR can enhance students' understanding of complex concepts. Therefore, schools, colleges, universities, and EdTech companies should consider adding it to their course plan. And if you are planning to integrate it into your business, a no-code platform like ours is the way to go. Unlike hiring people to build AR apps, on PlugXR, you can do it without technical expertise and provide the best possible experience to your students.
Just like Augmented Reality in Education is making learning easy, fun, and engaging, PlugXR's breakthrough approach to creating AR experiences and apps in a matter of minutes without any coding or dependency on developers, software, or hardware is making this tedious and time-consuming process very easy and fun to operate while ensuring you have an AR experience with highly detailed images, animations, videos, etc.
Honorable mention to Scifikids an AR integrated educational kit for kids below 5 years of age which is aimed at enhancing learning, creativity & mental skill development with loads of fun-filled & interactive activities, resulting in better retention and implementation of concepts.