Immersive technology is reshaping how people shop. Customers love it when they can control their own experience. A 3D customizer allows users to do that sitting at a distant place, browsing products of their choice online. For instance, users can change color, elements, and other features to configure a product for themselves and deliver them to their doorstep.
66% of buyers are more interested in buying products from a website that provides 3D AR and customization options, with Shopify reporting 94% higher conversion from product pages with 3D customization and Augmented Reality.
What is a 3D Customizer?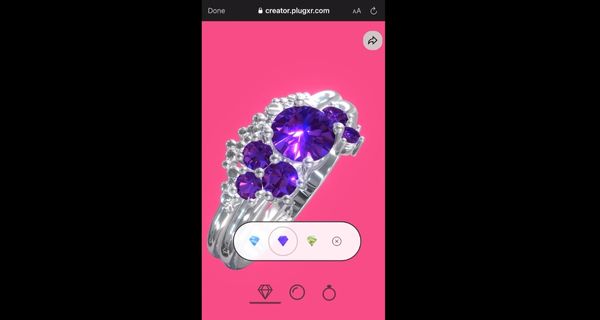 A 3D customizer is a functionality that allows customers to interact with products and configure and customize them as per their needs. It can be seen as an advanced version of how we could get our names printed on coffee mugs.
It opens a way for online shopping to provide a tangible shopping experience that, so far, you could get only in offline stores. Customers can visualize the product in 3D. They can configure them for color, material, and much more. They can do it even in a simulated environment with mixed-reality technology. This results in a personalized and highly engaging shopping experience.
The products can range from F&B to retail, apparel to jewelry, cars, etc.
How is 3D customization reshaping the shopping experience?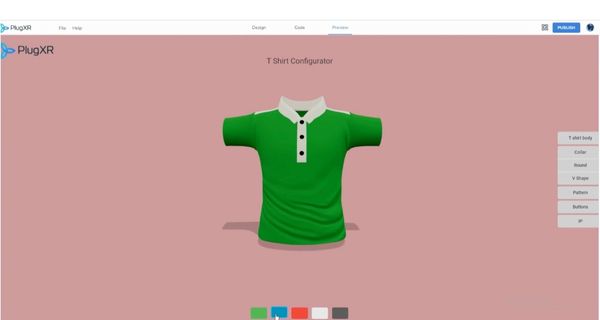 Traditional shopping needed us to visit stores. It would give us the advantage of seeing them with our naked eyes, touching and navigating on a paper catalog. Some of them allowed custom products. We could pen our imagination and desires on paper, and the vendor would develop a prototype. It would go for a few more iterations before arriving at the final one. It was a time-consuming process.
Today, the time has changed with customization at our fingertips. While three-dimensional visualization amplifies our visual experience, the 3D model customizer makes up for the tactile experience. It feels much the same as offline shopping when you can pinch your screen to zoom in on a product, take a closer view, switch between color options, and configure for the material.
The eCommerce evolution
E-commerce saw exponential growth initially with the rise of the internet, with people tending towards consuming information from the internet and later buying things. It saw gradual growth thereon owing to the ease of doorstep delivery. Recently, it spiked again with the quarantine situation taking over the world. E-commerce sales touched a record high during 2020 and the following years.
Also, there have been several considerations to match customer experience online with the tactile experience they get offline. All the effort has been made to ensure the same level of confidence people get when they can see, touch, and judge the product in store. With solutions like an eCommerce product customizer, AR, and VR, visual commerce has taken a drastic turn, making eCommerce more reliable than ever. Product pages are much more interactive with features like "try-on" and try-before-buy, all in the real and simulated environment with customization options. It takes customer experience to an impeccable level, boosting customer satisfaction and their buying journey. It gets further simplified with no-code solutions like 3D Product Customization Software for e-commerce, retail, fashion, and more, making their way into the market. They provide alternatives to coding-based development that require hefty development costs and time investment.
The marketing evolution and social media trends
For decades, marketing was all about billboards, big hoardings, printed pamphlets, and newspaper advertising. Later, the world moved to marketing products at events and public gatherings. Advertising was done on radio and television. Audio and videos took over the marketing, with stakeholders busy creating creative video and audio scripts to woo their potential customers.
However, marketing has moved beyond visual magazines and plane advertising videos today. Brands across the globe are keen on adding interactive elements to make the marketing content a two-way street.
It is where 3D product customizer options are picking up, with people wanting to configure and preview what they wish to buy.
How do customers benefit from a 3D customizer on their favorite websites?
Customers tend to sit at home while shopping for the best deals. However, needing more tactile experience, they buy products only to return them upon delivery. While sometimes it is the product's aesthetics, other reasons could be the uncertainty of how it fits the user's needs. For instance, if it is home decor, how does it look when installed, or if it is cosmetics, how well does it complement the rest of the dressing and makeup? There could be multiple other reasons for choosing color, material, elements, and product features.
3D AR customization eliminates the need to anticipate and hope that a product will be good and befitting. It, thus, fits well in improving the customer's journey.
How can you benefit from the technology?
Stakeholders who are engaged in selling a product are looking forward to integrating product customization into their business, from the designer responsible for enhancing the product's visual appearance to marketers who want to improve their customers' buying experience to executive-level people who want to amplify their ROI and revenues.
Real-life product customization and its impact
Nike, for instance, with its "Nike Fit" feature, allows its users to try its shoes for a better conviction before they purchase it. It impacted Nike's sales by turning app users into buyers and significantly reducing shoe return rates. Many renowned and newer brands are following the same.
Sephora is another such example. It was perhaps the first in beauty & cosmetics to adopt the technology. People could scan their faces to try on products, change shades, etc., to configure makeup kits for them on Sephora.
Many automotive companies are adopting a similar idea in the form of 3D vehicle customizers. A 3D car customizer would allow a potential car customer to configure their car with features they love. Furniture brands like IKEA, Lulu & Georgia, and many other brands in various industries opt for the same with similar objectives – a great customer experience. If you are considering upgrading your visual commerce with 3D AR visualization and configuration, no-code platforms like ourselves could be the pick with shorter TAT and time to market. Sign up now or book a demo to get started.