Transform Your Ideas into Reality with Our No-Code AR/VR Creator
Create and Publish
Login with your Registered Email ID and Password
The world is changing every minute or we can say every second. The increasing complexities need some simple yet effective solutions. Therefore, augmented reality steps in to tackle this problem. AR technology is one of the greatest innovations in the 21st century. It has changed the market drastically with unbelievable revenues. Leading brands tend to change their business strategies from just marketing to enabling Augmented Reality technology for the same. The gaps are being filled between the physical world and the digital world as Augmented Reality technology shoots up the business.
However, why should the industry acquire AR technology?
Augmented Reality is transforming the customer's point of view as it brings more promising visual representation than ever before. Not only this, but it also kills the hesitation that a customer faces before buying a product. What looks complex and multifarious is simple and undemanding. AR technology is helping front-line workers to practice unknown techniques without the presence of a superior. Medical practitioners are utilizing Augmented Reality technology to master the human body anatomy. Augmented reality will proliferate stagnant businesses.
What industries can benefit from AR technology?
Instead of asking what industries can benefit from Augmented Reality technology, one should ask what can be lost if AR is not integrated into industries. The advancement of the digital world demands up-gradation of business strategies, and that's why keeping up with the pace is vital for a successful business. There are ways and methods that businesses adopt for incorporating AR, but these categories almost help every industry. Let's find out what the categories are.
Essential categories for any industry
Training and education
Design and prototype
Marketing & sale
Support & maintenance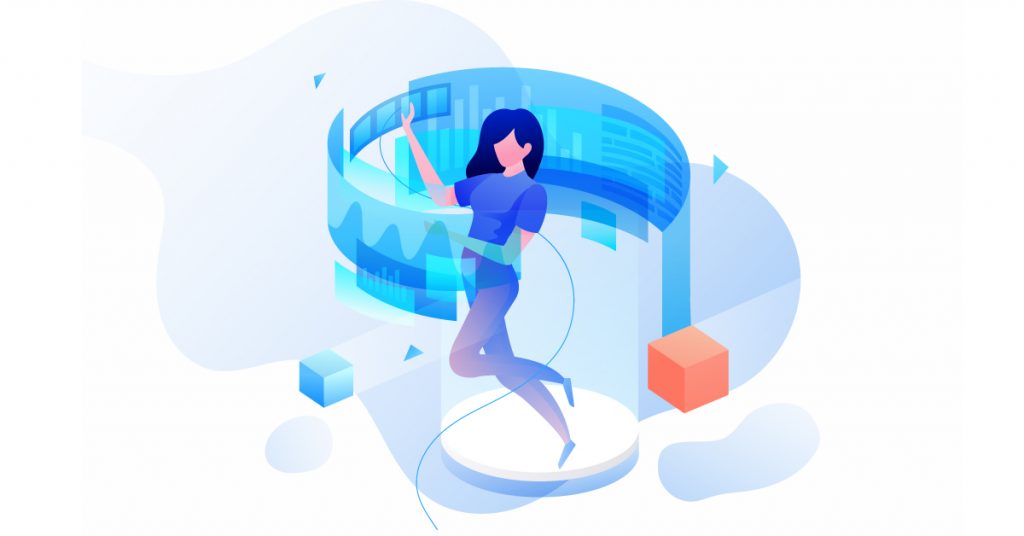 Training and education
In the race of brand recognition, the foremost step is to train people. Training is the most essential step. Unfortunately, many industries skip it because of the high demand for trainers and educators. Hence, augmented reality technology bridges the gap between the two. It brings together the trainer and the trainee. AR has the power to superimpose digital information and graphics on the physical world, which helps new bees to learn and succeed. It eliminates the need for a person physically being present.
Design and prototype
The second crucial step is designing. We know that designing a project is the baby step to building an empire. Acing this step requires a huge amount of patience. While several attempts may not be the one, it almost squeezes the budget for all. This problem requires not a template on a paper solution. It needs an exceptionally real but superimposes design. This design is convertible if it's not finalized, as it doesn't require high dollars. It just demands augmented reality over high cost. It gives ease to the designer rather than rejection.
Marketing & sale
The third step that every business needs a command of, is marketing. A business can be established well, but to promote it and to be able to get revenue from it, is the next level of satisfaction. Many a time, marketing a brand becomes boring as customer no longer gets attracted to mundane marketing strategy. The new age looks for creativity in selling a product rather than the actual product. Therefore, it becomes a necessity to market the valuables correctly. The digital transformation brings 3D interactive models which escalate the business.
Support & maintenance
The fourth and last step is support & maintenance. While establishing a business needs super guidance and control, maintenance is the one we should focus on. Consider an example of an e-commerce company. Though selling a product is easy, but registering a complaint and work upon it is difficult. If the customer finds some flaws in the service then they might not visit again. Moreover, that's the reason, one should always look back for the maintenance.
The four categories depict a lot about almost all industries. Now, we look at the different industries that can benefit from AR technology.
Automobile: When AR meets our journey!
Our mode of transportation is automobiles. We enjoy traveling because of the comfort. But how do we know what customers want? A simple 2D picture will not convey the idea behind selling that automobile. People often come for a test drive and then decide whether they want to invest in it or not. However, these practices can be replaced by on-spot 3D assistance. While it takes a plethora of people to explain every part of the vehicle, Augmented Reality technology makes it easy for the customer and the seller. It replaces an unlimited explanation with digital infographics. Augmented reality brings the customer closer to finally buying that automobile.
Case Study/Augmented Reality case study for Automobile Industry:https://www.plugxr.com/casestudies/tafe
Education: When learning becomes a magical experience with AR
Students often miss out on important practice sessions due to the lack of equipment and professionals. Well, not anymore, with Augmented Reality technology a student can learn and explore everything. From difficult machines to simple experiments, everything can be mastered with augmented reality.
Case Study/Augmented Reality case study for Education Industry: https://www.plugxr.com/casestudies/inkmeo
E-Commerce: When shopping turns out to be 3D
The big websites always try to sell products with just 2D images, however, customers search for something trustworthy. Just an image won't sell that product. Therefore, customers should be attracted to powerful 3D animations and solid infographics. The presentation of a product matters more and helps to increase the sale by 70%.
Case Study/Augmented Reality case study for E-Commerce Industry:https://www.plugxr.com/casestudies/regaliz
Manufacturing: A practice for everyone with AR
The manufacturing industry is huge and complex. We see a lot of shift changes and people. Sometimes the new front-line workers need important assistance with the machines or usual workflows. However, due to the shortage of senior staff, their problem remains unattended. . The solution to this problem is augmented reality technology. You can see overlaid images and instructions that can guide you the way you want and a million times.
Case Study/Augmented Reality case study for Manufacturing Industry: https://www.plugxr.com/casestudies/msagarwal
Many industries can take advantage of augmented reality technology. A film promotion can be fun with AR by portraying the trailers with augmented reality. Everything will appear in 3D format and leads to more creativity. Fans can get an on-spot experience of clicking pictures with their favorite character. This not only gives them extreme happiness but also promotes friendliness.
PlugXR as an augmented reality gives way to such businesses. It's a platform for all industries creating an immersive impact on customer-driven businesses.
Transform Your Ideas into Reality with Our No-Code AR/VR Creator
Create and Publish
Login with your Registered Email ID and Password