Transform Your Ideas into Reality with Our No-Code AR/VR Creator
Create and Publish
Login with your Registered Email ID and Password
Augmented Reality and Virtual Reality brought very powerful impressions on the world over the last couple of years. These technologies have caught the attention of many businesses and brands. They have a significant effect on many of the industries which have continued to increase in popularity. Augmented and Virtual Reality has been around for more than 30 years. These immersive technologies can overlay computer graphics onto the actual environment (Augmented Reality) and explore computer-generated environments (in Virtual Reality). Users can get a real-time experience of how to use a product, instead of simply showcasing the product brochure. AR and VR are used in many contexts and sectors from manufacturers to consumer applications. The AR and VR technology is used across various industries ranging from healthcare to education, sales, and tourism. Most of the exhibition stand designs and trade shows are amplified using the AR and VR technology.
Below we have listed Augmented Reality and Virtual Reality trends to watch out for 2020.
Augmented Reality and Virtual Reality Trends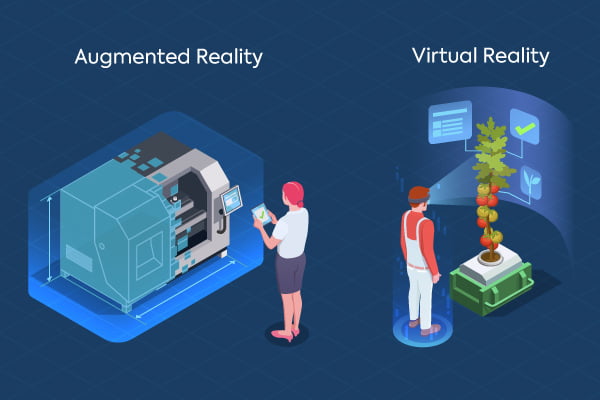 Opting for AI in AR/ VR Space
Augmented Reality and Virtual Reality developers have opted for artificial intelligence (AI) and machine learning while developing many of their apps. One of the best examples of integrations of AR and AI is the machine learning-enabled microscope. It can easily highlight and detect the growth of cancerous tumors while a pathologist examines the samples through a viewfinder. It is predicted that both these technologies can be considered as the biggest trend in the future of learning and education.
Use of AR in teaching and training
AR and VR provide excellent virtual training and teaching environments for students. These immersive technologies provide the best learning experience for the students. This environment will help the students to practice in whatever field they are interested in ranging from construction to surgery without any risks. It is believed that both these technologies are the future of learning and the next big trend in education. It is possible to send information to students in real-time with the help of these technologies.
Gearing up the vehicles with AR/ VR technologies
Including AR in automobiles and vehicles has great potential for enhancing safety. AR/ VR technologies in vehicles provide the driver with very crucial information. It also improves the car's safety by providing real-time feedback to the rider that will improve the driver's convenience and comfort. Many automobile manufacturers have shown a keen interest in AI-based technologies as AR redefines how people travel and move.
Consumer Entertainment
Both AR and VR technologies are becoming much more accessible for consumer entertainment. It is expected that they will see much more success in the coming months. The adoption of VR in homes is taking place on a vast scale due to the evolution of headsets. There are many hardware development companies and developers that are focusing on creating the perfect apps. This is a trend that tends to improve drastically over the coming years.
Travel and Tourism
Virtual Reality has a great impact on the travel and tourism industry. This is possible as many users can visit the places without any need to leave the comfort of their own home. This will allow users to have a better understanding of a particular region without investing in hotel rooms or tickets. This is one of the greatest advantages of travelers where they can experience everything virtually before actually visiting it. There are also many VR apps available that will allow travelers to re-experience the holidays after they have returned to their homes.
Boon to healthcare
Augmented reality and virtual reality have the great potential to transform the healthcare industry by fulfilling different purposes independently. These technologies will help them with higher productivity, efficiency, and help them to relish different use cases at the same time. To achieve this goal, different healthcare organizations will have to establish XR platforms as medical devices. Both these technologies have a great potential to completely revolutionize healthcare that will leave an everlasting mark in the industry.
PlugXR can be the best choice for Augmented Reality and Virtual Reality Solution
PlugXR offers a simple drag and drop interface that allows you to integrate your content into AR. It has made Augmented Reality affordable for everyone which does not require any coding knowledge. Augmented reality and Virtual reality can be considered as the transformative technologies which will become better in transforming the lives for the better. Right from influencing the manufacturing sector, education sector, healthcare sector, etc. these technologies will change the way people thrive and live. PlugXR is here to transform different sectors of industries that will enhance the user experience. Sign up for the PlugXR free trial today!
Transform Your Ideas into Reality with Our No-Code AR/VR Creator
Create and Publish
Login with your Registered Email ID and Password