Transform Your Ideas into Reality with Our No-Code AR/VR Creator
Create and Publish
Login with your Registered Email ID and Password
If the stats are to be believed, 63% of the retail brands are planning to use Augmented Reality in the next 2 years. Over the last few years, Augmented Reality has reached the peak of popularity. A manufacturing firm is always responsible to have a workplace that is free of any safety concerns and health risks. There are times when the employees are at a higher risk of some safety hazards. Things are about to change as augmented reality is on the rise. Augmented Reality is playing a vital role in transforming the assembly and manufacturing processes of the companies across the globe. Augmented Reality in manufacturing is making significant changes to the manufacturing industry. Augmented Reality can showcase much more than images or digital characters.
Augmented Reality in Manufacturing Basics
Augmented Reality is very often confused with Virtual reality but they differ significantly in terms of their applications. Virtual Reality lets the users put on their headset to enter into the virtual world, whereas Augmented Reality overlays digital content and information on the real world in real-time. It makes use of an existing environment that will add digital information to create an augmented environment. Workers can opt for Augmented Reality in manufacturing to know which machinery is working fine and whether it is within normal parameters. It can be a great help to improve the production line once it hits the factory floor. This will not only save time but also will be more cost-effective.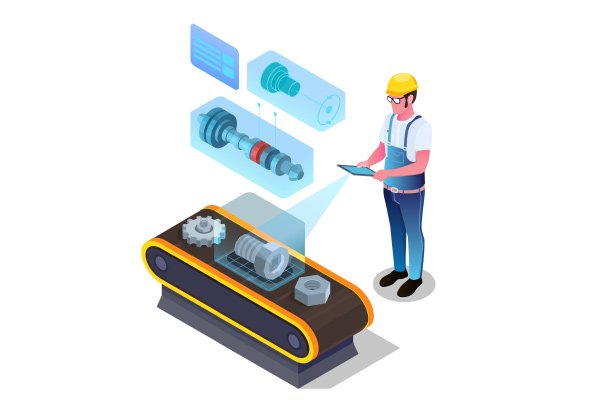 Augmented Reality in Manufacturing will transform the Industry
Work Faster –
Augmented Reality in Manufacturing can be very beneficial for engineers to assemble anything very quickly that might take years of training to do so. But with the help of Augmented reality that uses motion sensors, depth sensors, and cameras that will overlay the image in the real world environment during their work. Engineers can see cables, rendering of bolts, and instructions on how to assemble a particular component. With the help of augmented reality, engineers can work 30% faster and accurately.
Maintenance –
Augmented Reality helps the maintenance crew to know about hardware and equipment services as well as check any major potential issue. They can make use of AR that displays information every time they visit the warehouse floor or factory. This allows for quicker response, faster recovery times, and repair and better operations all around.
Reduce Production Downtime –
Many manufacturing firms face production downtime due to the breaking down of machines. It could cost the organization thousands of dollars. The team can easily identify the flaw and prevent the occurrence of downtime with the help of augmented reality devices. The team will be able to visually identify the cause and resolve it then and there.
Access any Data easily –
Engineers can have easy access to any object's location, specs, lead-times, and inventory using Augmented Reality. The team can use an AR-enabled mobile app that can scan QR codes to view graphics and images of the particular product.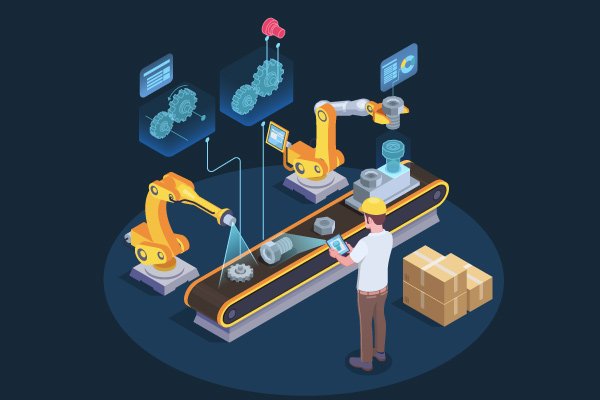 Augmented Reality in Manufacturing Applications
Airbus –
Airbus is making use of Augmented Reality in manufacturing for different purposes under the brand name Smart Augmented Reality Tool (SART). This technology can be used in various applications and approximately 1000 employees are using SART every day.
Boeing –
Boeing is the leading manufacturer of commercial jetliners which is making use of AR technology to ease the wiring work. Technicians get their instructions right when needed with the help of AR solutions.
Caterpillar –
Caterpillar completed a pilot project successfully that involved augmented reality for machine maintenance tasks. It provides sequential instructions to technicians how correctly different steps are performed. It helps to learn the maintenance procedures very quickly and avoid any errors.
There are so many things that augmented reality can do for the manufacturing industry. AR has great potential to revolutionize the manufacturing industries and companies.PlugXR is one such platform that will be a magic wand in the manufacturing industry.
It offers an easy drag and drops the cloud-based platform to create and publish an AR application. It can bring a vast change in the Manufacturing industry and leave an everlasting mark.
Transform Your Ideas into Reality with Our No-Code AR/VR Creator
Create and Publish
Login with your Registered Email ID and Password