Transform Your Ideas into Reality with Our No-Code AR/VR Creator
Create and Publish
Login with your Registered Email ID and Password
Augmented Reality can be considered as one of the hottest trends in the technology world. Brands are always looking for new ways to connect with the audiences. They realized the need to incorporate Augmented Reality into their branding, marketing, and advertising solutions. Augmented Reality is an ideal tool to implement viral advertising campaigns. It will help to build an emotional connection for the customers and brands through personalization and interactivity. The marketing strategy of any company is not aimed for a one-time purchase, but it aims at building a long term relationship with the customers. Therefore, it is very important to pay attention to augmented reality uses in advertising. Augmented Reality advertising enhances the customer experience for retailers that boost the level of interaction and engagement with the targeted audiences. AR advertising is realistic and makes users feel like they are playing an engaging video game. This increases brand awareness, that builds an emotional connection that encourages customers to make purchases.
What is Augmented Reality Advertising?
AR Advertising requires a mobile application that makes use of smartphone or tablet cameras to augment the real-world environment with specific content. To access the augmented reality content, consumers have to install AR applications on their mobile devices. The AR application is entertaining and useful to convince consumers to install it. Mobile platforms are one of the most popular ways of distribution for ar advertising. Instagram and Facebook together are testing built-in AR advertising. AR ads will appear on the user's newsfeed along with traditional advertising. Large screen AR ads are broadcasted on the screens in crowded places that bring people from their everyday life to unusual environments. For eg: Shopping centers or public transport stops.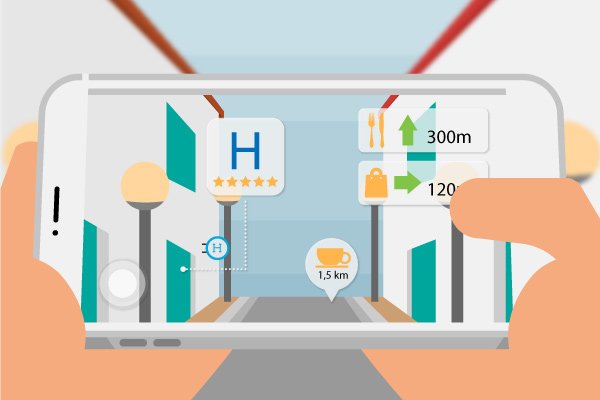 Advantages of Augmented Reality Advertising
Here are the ways advertisers and marketers can take advantage of the augmented reality advertising Platform.
Advertising is Fun and affordable –
AR Advertising is very popular and moderate when compared to print advertisements. The cost involved in AR promotion video varies depending upon its quality. Despite Digital advertising gaining lots of importance, conventional print advertisements are also not out of date.
Customer's Attention –
One of the most efficient ways to grab the attention of your customers is through an effective marketing strategy. Companies and brands need to find some innovative ways to establish trust and gain brand visibility. AR advertising provides a very unique opportunity to connect with customers. Instead of watching a video or viewing a static ad, people can directly interact with the brands.
Making use of Geolocalization –
Digital advertisements always make use of some of the advanced machine learning algorithms. These algorithms can help to examine user interests and behavior so that proper services are offered to the customers. Augmented reality advertisements based on geolocation can easily indicate objects on the cell phone's screen.
Establishing an Emotional connection –
Augmented reality advertisements are very useful to create an emotional connection with the customers. Just like banners and images, AR ads are very interactive that can help the users to interact with the brand. Users feel that they are playing a very engaging video game while interacting with the AR ads. This builds a very emotional connection with the customers that will help them to make purchases.
Improves Sales –
Augmented Reality offers different ways for promoters as well as advertisers to expand their sales. Giving your customers access and allowing them to interact and try different products before actually making a purchase will surely impact the sales figures. Augmented Reality advertisements can allow users to get more information about the availability, products, and pricing.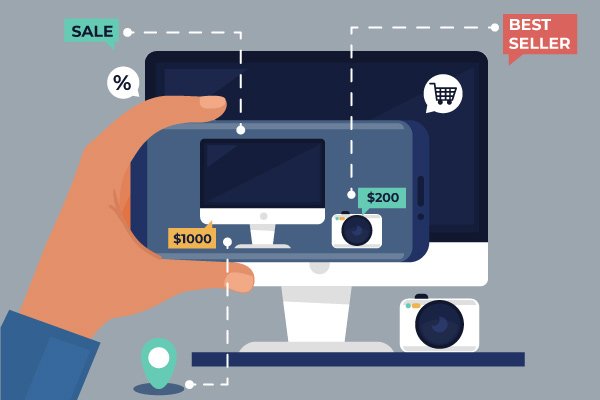 3 Main components of Augmented Reality advertising that hinders people to adopt it
AR App Design –
AR App design includes the creation of user experience (UX) and user interface (UI).
AR App Development –
AR App Development contains front end and back end development. Many companies divide the AR development process into different iterations.
AR application Testing –
It is very important to realize that without proper testing even the best ideas can fail.
Role of PlugXR in Augmented Reality Advertising
There is a high cost involved in any AR App development process. The augmented reality app development cost is not affordable for medium and small businesses. The best solution to all these problems is PlugXR .
PlugXR is an easy drag and drops a cloud-based platform that allows you to integrate your content into AR. There is no coding knowledge required for this and can significantly revolutionize Advertising. It can leave an everlasting mark in the advertising industry. If you want to promote your brand using augmented reality then PlugXR is definitely for you.
Transform Your Ideas into Reality with Our No-Code AR/VR Creator
Create and Publish
Login with your Registered Email ID and Password