By the year 2026, it is anticipated that the value of metaverse technology on a global scale will reach $758.6 billion.
The concept of the "Metaverse" is the most recent trend to sweep the world of information technology, and there is a good reason why this is the case: it may help businesses develop quickly by enabling them to provide their customers with cutting-edge digital experiences that are immersive and interactive.
Introduction
When used in this context, the term "metaverse" refers to the integration of several aspects of the digital world, including virtual reality, augmented reality, social networking, gaming, online shopping, cryptocurrencies, and workplaces, into a single seamless virtual world. Augmented reality (AR), virtual reality (VR), and the actual world will all merge into one digital space in what is being called the "internet of the future."
The expansion of non-fungible tokens (NFTs), as well as the growth of online events, have ushered in a plethora of new opportunities for metaverse technologies and other forms of innovation.
How is Metaverse Technology emerging rapidly?
It's just a matter of time until we make the jump to the Metaverse. It is now possible to look into the possibility of building a parallel virtual world by integrating different parts and features of this open-source platform.
The rising popularity of NFTs and online events opens up infinite possibilities for metaverse technology and related technologies.
The pandemic provides the much-needed impetus to a changing global perspective of interaction and immersive socialization.
The conversation around the metaverse has re-emerged. With companies like Meta, Google, and Microsoft joining the bandwagon, the dialogue has gotten stronger. It is headed towards actualization in terms of rising interest in funding projects, expanding outreach of collaborative technological efforts, shifting paradigms in the market, and an overwhelming response from the general public.
Since this field is still developing technologically, no single company has a significant impact just yet.
The Metaverse is boosted significantly by the development of technologies such as 5G, extended reality (XR), blockchain, and digital twins.
The infrastructure makes it possible for people in the virtual world to communicate in real-time. Interaction between humans and computers is the foundation of the connection between the actual world and the virtual world.
The user's right of choice and ownership may be improved via the usage of decentralization. Processing in space gives users access to more computing power while also lowering their overall equipment needs.
5G, XR, blockchain, and digital twin are Metaverse-friendly technologies which are listed below.
5G is the backbone of the Metaverse's infrastructure.
Interaction between humans and computers connects the real and digital worlds.
Blockchain technology is at the heart of decentralization.
Connecting real and digital space with computers.
Metaverse Technology in business growth
However, the race to the top has already begun, with many businesses pouring resources into various metaverse projects, acquiring a select few on the way to the top, and being able to conduct extensive study and inquiry in the field.
Some companies in the business are rebranding to narrow their target audience, while industry consolidation is occurring to gain strategic strengths.
Both Epic Games and Zepeto were able to secure significant investments, while Roblox acquired Guilded Inc., and the formerly known as Facebook merged with Unit 2 Games to become Meta.
The current efforts to create a metaverse technology based on the idea of stakeholders existing peacefully regardless of their size may accelerate the transition to Web 3.0. This might be due to the fact that the principle underlying such efforts.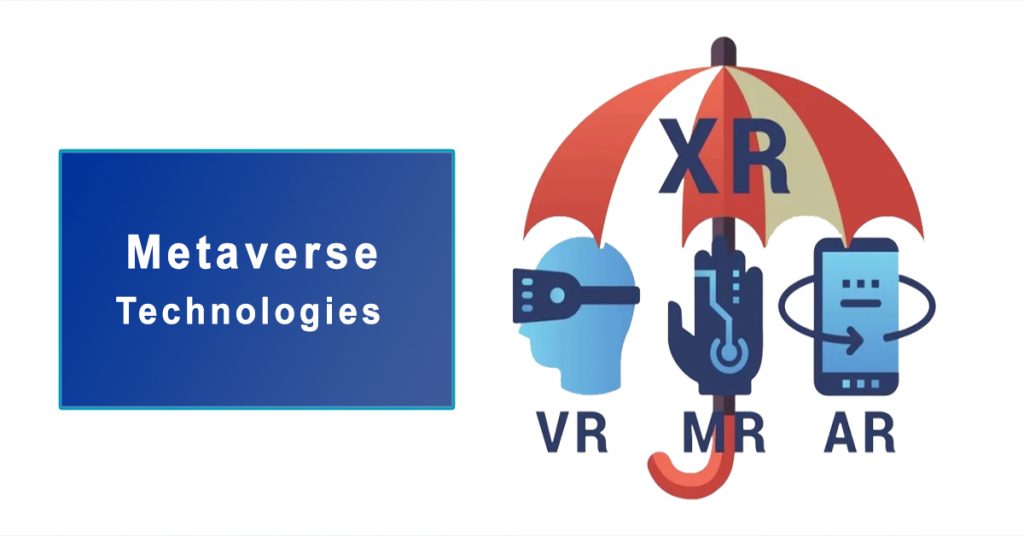 Metaverse Technology in Different Technology Sectors
The promise of metaverse technology is based on the disruption of existing technologies and the integration of multiple platforms for value creation in a virtual universe of possible applications.
These all cover everything from work to entertainment to finance to trade and exchange of services to virtual travel to gaming and digital activities inside an immersive and self-sustaining ecosystem that is powered by digital currency and technology that enable edge computing.
In addition, there is a great deal of progress being made in areas like infrastructure, content generation, game interface development, cloud computing, and edge computing.
Facebook, renamed Meta, Microsoft, Google, Roblox, Nvidia, Unity Software, and Fastly are just some of the major corporations at the forefront of metaverse growth in terms of innovation, technological collaboration, and robust development.
In order to further its goal of creating an inhabitable, immersive virtual universe by fusing augmented and virtual reality technologies and developing future monetizable applications for the Metaverse.
Tools for Metaverse Technology
Meta acquired VR headset manufacturer Oculus and established Horizon workrooms, a virtual reality subsidiary.
Participating in immersive 3D avatar-led meetings powered by augmented reality and smart glasses that improve mobility and multi-device access to the metaverse technology is now possible thanks to Oculus-enabled Horizon conferencing.
In order to build immersive conferencing platforms where users can engage with holograms and avatars, Microsoft is creating a pair of mixed-reality glasses named HoloLens.
These integrate collaboration tools with Xbox gaming capabilities. The Alphabet parent firm is working on intelligent eyewear with augmented reality capabilities for use in video conferences.
Unity Software, the market leader in 3D game engines, is focused on improving the availability of content across ecosystems by seamlessly integrating multiple platforms.
Roblox, a popular online gaming platform, has unique Virtual environments, a growing library of user-created games, and virtual venues that have hosted and monetized live concerts using its own digital currency.
Roblox took advantage of the Metaverse's popularity and its user base's loyalty by partnering with high-end fashion labels to sell new goods, encouraging users to work together on game development, and offering virtual cash to users in return for free access to exclusive content.
Final words
In addition to its advanced functionality and widespread availability, the metaverse technology will be powered by the decentralized database technology known as the blockchain. This will make it possible to create decentralized digital economies of scale that make use of digital technologies.
PlugXR is a platform that is friendly to creators and doesn't require them to know how to code. It utilizes 3D design expertise, research, and invention to produce virtual prototypes for augmented reality and virtual reality applications of the metaverse technology.