Transform Your Ideas into Reality with Our No-Code AR/VR Creator
Create and Publish
Login with your Registered Email ID and Password
Augmented Reality has made a vast impact on everyday lives. Over the past few years, this technology has gained interest from big brands. Augmented Reality can help to solve problems, enhance the user experience, and add value in nearly all industries. Augmented Reality will take the real-world environment and will add computer-generated input to it. AR can have a great impact on different sectors like education, healthcare, telecommunication, manufacturing, retail, etc. It enriches the experience by introducing the elements of the virtual world into the real world by using augmented reality technology. Augmented Reality can be easily seen through a variety of experiences. This technology is easily accessible through smartphones that led to the development of augmented reality apps. Augmented Reality offers immersive and unique experiences that will engage customers in the best way. Here we have listed examples of augmented reality technology.
Examples of Augmented Reality Technology
PlugXR for Business Cards –
Giving your Business Card to contacts is all about the first impression you give to them. Augmented Reality Business cards can make you stand out from the crowd. PlugXR is a cloud-based platform that allows creating business cards enhancing customer experience. There is no coding knowledge required to develop your AR business cards with PlugXR and it is bundled with many features. AR business cards have a great impact on people that leads to higher conversion rates and builds a stronger relationship.
Ikea Mobile App –
Ikea is a Swedish home furnishing company that has implemented augmented reality technology to enhance the experience of the customers. It is one of the first companies in the tech world that has used augmented reality in the best way. It provides a catalog of more than 2000 products. that can be well tested in the room by simply touching it. This is a very useful tool to check if a certain piece of furniture will fit in your room. This mobile app is making use of Apple's ARKit that will take your experience to the next level.
Pokemon Go –
Pokemon Go is one of the overwhelming and more enjoyable video games that have massive popularity of AR technology among the consumers. This game allows users to catch pokemon by looking through their phones in the real world. Users can catch virtual pokemon that are hidden throughout the map. This game allows the players to search and then catch more than a hundred species of pokemon. This app works perfectly on Android and iOS devices and compatible with all the devices.
Loreal Makeup App –
Loreal Makeup app will allow the users to try different types of makeup. The app will identify your face and showcase how you would look like with the color or shade of a specific product. Currently, the app offers 64 beauty looks for the fans located in Mexico, Russia, the US, and India. This will allow the customers to access a wide range of Loreal products whether they are available in stock at the retail location or not. This app identifies your face that will showcase what you would look like with different shades of color.
US Army –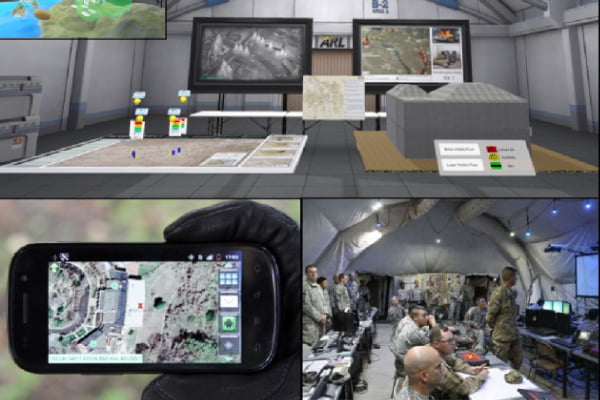 The United States Army is utilizing different augmented reality programs that will help the army to distinguish between enemies and friendly troops. 'Tactical Augmented Reality' (TAR) helps the soldiers to locate their position as well as other's position. TAR has a great ability to change the night-vision goggles. It enables the soldiers to see in the dark. It is very useful to them as it will replace the handheld GPS that the soldiers carry to approximate their positions. This eyepiece is connected to the tablet that soldiers wear on their waists. It is wirelessly connected to a thermal site which is mounted on carbines or rifles.
Disney –
Young minds have a great skill of imagination and there is a wild variety of augmented reality children's books that are available in the market. Disney developed a technology that turned coloring book characters into 3D. There are no specific rules for it, the only thing to be kept in mind is to color inside the lines. It can be considered as an all-new way for the children to play and explore with their imagination.
Adidas AR App –
Adidas is a very popular brand that uses AR to enhance the experience of the customers. In the year 2018, Adidas partnered with Snapchat to virtually preview 19 running shoes through AR lenses for the customers. People can simply tap on the logo of Adidas that will launch the activation. It is simply accessed through the lenses in the Snapchat app.
Augmented Reality technology has truly changed the face of gaming and other smartphone apps. AR helps to add digital images to the view of the real world. Augmented Reality technology is growing at a very rapid speed that will take businesses to a new height which will attract more customers. Above we have listed some of the best examples of augmented reality technology. This will truly make the user experience more interactive and refined.
Transform Your Ideas into Reality with Our No-Code AR/VR Creator
Create and Publish
Login with your Registered Email ID and Password