Transform Your Ideas into Reality with Our No-Code AR/VR Creator
Create and Publish
Login with your Registered Email ID and Password
Augmented Reality can be considered as a very important marketing tool for many companies over the last few years. It is a great tool for attracting new customers and augmented reality has moved to the retail and eCommerce industry. If the stats are to be believed, the retail sector will showcase 5% of the augmented and mixed reality software market by 2022. This technology has gained a lot of importance and popularity across the globe. Augmented Reality is not just about overlaying the camera with 3D generated objects. It can be very useful for retailers in improving their marketing strategies and generating high revenue. AR is utilized not only for game geeks and tech giants but also considered as a very popular technology among big traders. Augmented Reality in business helps to raise sales dramatically. All the big giants are using augmented reality to upgrade their sales and market presence. This is achieved by boosting the purchasing experience and customer interaction.
Augmented Reality in Business to boost Sales:
AR in business can be considered as an emerging trend within sales and marketing strategies. This will allow the brands to give their customers a unique experience with easily tapping into their mobile devices.
Try products before purchasing it:
Potential customers always prefer to try products prior to purchasing them. AR shopping experiences can be considered as one of the rising trends in the retail industry. This gives customers the power to try clothing items, a vast range of home-related products and even try on makeup without any need to directly interact with them. Augmented Reality removes the need for a large physical inventory. This will allow the customers to try plenty of items in order to search for one of the best that will meet their needs.
Giving a new look to branding materials:
If you opt for AR in business then it has the power to take the branding materials like the brochures and business cards to the next level. Users can simply use their mobile devices to scan the printed materials that will give them additional information and different ways to get in contact with the brand. For example, A user can scan a business card in order to present different contact options that will allow the clients to get in touch with just a single click through call, email or even Linkedin.
Providing assistance through Augmented Reality:
AR in business has a great potential to add digital components on top of any physical products and locations. Clients can simply scan the object or product to pull up the AR experience. This will help to give additional information about the product or showcase some brand-related experience. The AR application is used in various industries and markets.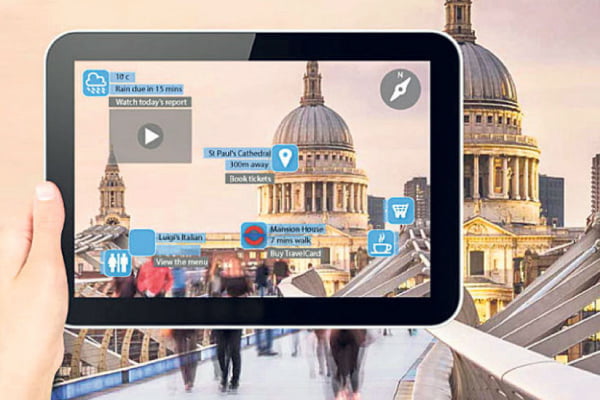 A major role in improving B2B Sales:
B2B sales can be considered as the most significant area in which AR plays a very important role. Using salespeople with flyers and brochures and PowerPoint presentations can be considered as an old school method. Whereas customized augmented reality application provides a virtual 360-degree look of the product. It can allow the clients to interact with the product in a detailed way from a high-level overview to a granular inspection of the components.
Creating a buzz around the brand:
AR can also be used as a part of marketing strategy and indirect sales. It plays a very important role to enhance the status of the brand that can result in a significant buzz for a brand. It is a new phenomenon for people and an AR experience is well designed to create long-lasting memories. Companies can generate millions of dollars if such types of strategies are employed. In a competitive market, a well designed augmented reality campaign can differentiate it from the peers and establish a name for itself.
Augmented Reality in Business can be beneficial for customers:
An augmented reality 3D product presentation can enhance customer engagement by displaying the products in a virtualized manner in the physical environment.
Saves the time of customers by allowing them to try on different products.
eCommerce websites can allow their customers for online personalization and customization of the products.
This will boost digital marketing in which information is added to the physical object in the form of video, lines of texts or an image.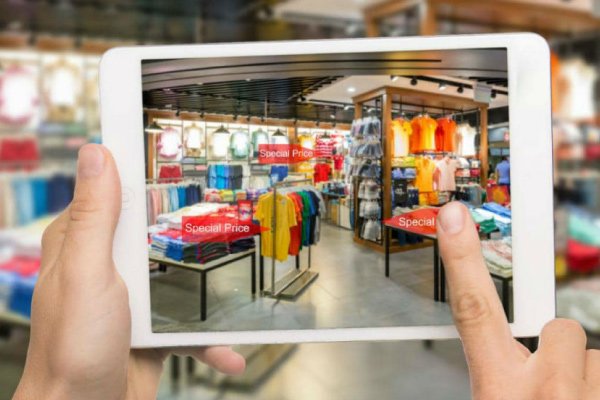 PlugXR: A great platform to boost Sales
PlugXR will help you to create detailed and immersive AR experiences with a simple drag and drop option without writing a single line of code. Just as Augmented reality is helping to boost sales, PlugXR is assuring that AR development is made feasible and easy for all the businesses to adopt it. There are many businesses that wanted to incorporate augmented reality with their products but the thing that was pulling them back is high cost, time and a lot of dependencies. Businesses can simply opt for PlugXR without worrying about time and the cost of development. It provides advanced reports and analytics which is very beneficial for them to keep a proper check.
Augmented Reality is the latest and trending technology that has the power of transforming any industry or business and enhancing the interaction with the users. Companies that have already implemented this technology have proven to be an effective approach to increase the competitive advantage by improving the experience and customer engagement. AR will surely help to upgrade the user experience that will lead to an increase in sales and business opportunities.
Transform Your Ideas into Reality with Our No-Code AR/VR Creator
Create and Publish
Login with your Registered Email ID and Password